Pictures of Michelle and Barack Obama at State Dinner
Obamas' Night Out With Mexican First Couple and Other VIPS!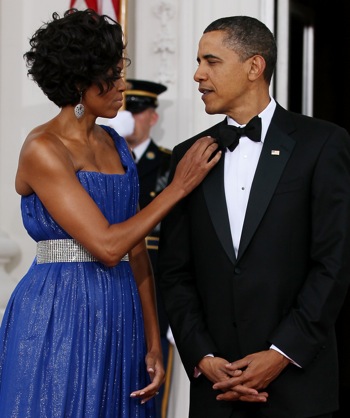 The first couple looked amazing as they stepped out tonight for an evening of wining and dining some of the world's VIPs. Barack and Michelle are hosting an official state dinner to honor Mexican President Felipe Calderon and his wife Margarita Zavala. Margarita, who also appears to be sans sleeves, exercised with Michelle and a handful of school kids earlier today.
The guest list for the hottest party in DC also includes Beyonce, George Lopez, Whoopi Goldberg, and Eva Longoria Parker. We can assume the Salahis, who crashed the Obamas' last state dinner, did not get an invite. But who cares? The pair already got the reality TV show they wanted. I have to admit, this would be a fun party to crash!