Pictures of Oprah Winfrey at Women's Conference
Oprah Spreads Message of Female Empowerment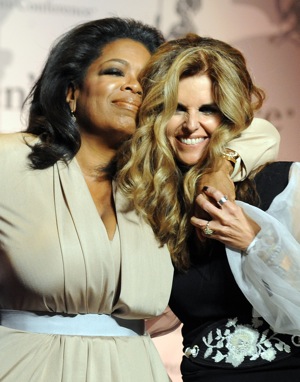 California first lady Maria Shriver ended her Women's Conference yesterday by honoring super woman Oprah Winfrey with a Minerva Award, an award given to the country's most inspirational women. In her acceptance speech, Oprah stayed true to Maria's message of empowering women, explaining that her new network OWN will be "fun and entertaining without tearing people down and calling them bitches. Imagine that."
After accepting the award, Oprah went on to praise Maria Shriver for bringing women together "to keep on striving, to keep on climbing, to keep on working, to keep on questioning, to keep on searching, to keep on supporting, to keep on fighting, to keep on hoping, to keep on dreaming, to keep on giving, to keep being the best of who we are."
Created in 2004 by Maria Shriver, the Minerva Awards have become one the country's most prestigious awards given to women "who serve on the front-lines of humanity." This year the five awards went to women who have a deep sense of purpose and who are passionately serving others. To find out who they are, read more.
In addition to Oprah, Carolyn Blackshek, creator of Operation Gratitude, won. Her project produces and donates thousands of care packages to soldiers overseas, and Carolyn, whose son is currently becoming a Marine Corps officer, gave an emotional acceptance speech. Other recipients included Sandra Day O'Connor, who recounted starting her legal career as a secretary (because law firms wouldn't hire women to work as lawyers), dedicated teacher Oral Lee Brown, and Sister Terry Dodge, who works with women just released from prison.