Pink Bad For Breast Cancer Campaigns
Study Finds Women Have a Problem With Pink
Researchers analyzing pink used in breast cancer awareness campaigns have found women are less likely to donate to cancer research when they see the color pink. And the reason why may surprise you.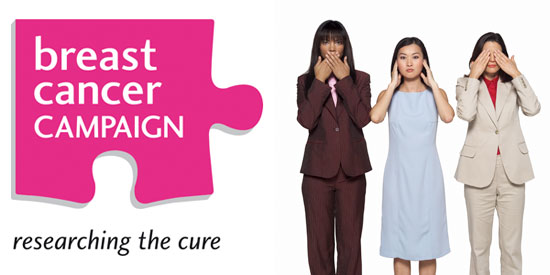 This study's experiments involved women being shown pink ads and told to write essays about their gender before being asked whether they thought they'd contract breast cancer and whether they'd donate to cancer research. The women who saw the color pink and wrote about their gender were less likely to donate and less likely to believe they'd get breast cancer than the women who wrote gender-neutral essays and looked at gender-neutral colors.
The researchers explain that women have a psychological response to seeing pink that triggers a defensive mechanism; basically, we go into a state of denial. We see pink — a social and cultural cue for women — and are reminded that breast cancer affects women and we are women, so because we are threatened by this harsh reality, we subconsciously say to ourselves, "we aren't going to get cancer." And once we believe we aren't going to get cancer, we are no longer personally attached to cancer research, so why would we donate to it?
I think the idea that women are psychologically affected by the color pink is very interesting, and I hope more research like this leads to a more diverse method of advertising for women (like this gender-neutral Danish beer). What do you think about women and gender-assigned colors?