Platforms of Female Republican Candidates
The GOP's Female Front-Runners: Mean Girls or Role Models?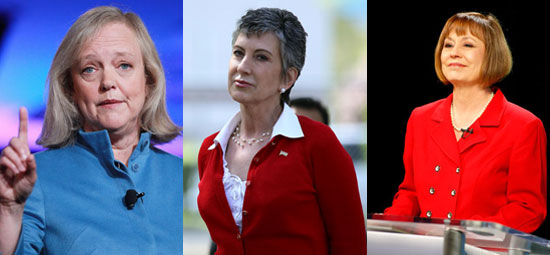 Most of us knew a pack of mean girls in high school — some of us probably even ran with that pack, whether we want to admit it now or not! And anyone who's ever worked or socialized with other women (so, anyone) can attest that the mean girls phenomenon carries over into adulthood.
But where do you draw the line between a grown-up "mean girl" and an assertive, powerful woman? According to a couple female columnists over the weekend, the current female GOP front-runners in this Fall's political races are toeing that line — and often crossing it.
Last weekend, Senate candidate Sharron Angle demanded that Harry Reid "man up" during a debate in Nevada. California's Republican gubernatorial candidate Meg Whitman infamously hung her housekeeper out to dry once it was revealed she was an undocumented worker. In California's Senate race, Carly Fiorina is calling for Roe v. Wade to be overturned. And the list goes on!
In your mind, do these actions add up to ruthless, mean girl politics? Or are these female candidates simply doing what it takes to get noticed and get ahead in a male-dominated political landscape?