Play Up Your Most Controversial Trait For More Internet Dates
OK Cupid is always crunching numbers on what profiles garner the most attention, and this week it noticed an odd trend: women whose average attractiveness ratings (as determined by readers) are about the same don't necessarily receive the same number of responses. In fact, they can vary widely.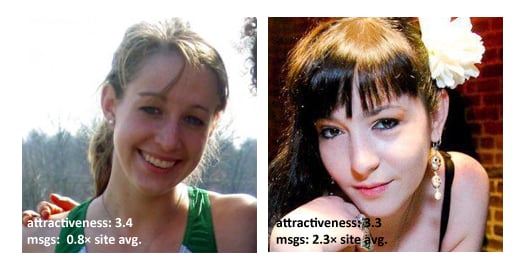 Upon looking further, it found women whom fellow users consistently rate about the same (say 3.5 out of five) receive the fewest responses while those whose ratings widely vary (rated five by one person and two by the next) get the most.
Basically, it boils down to a targeted audience: women who are controversial, either because they're posing seductively or showing tattoos, attract a certain type of man; girl-next-door types attract just about every man. We learned last week men like to minimize rejection by preferring women who've recently been dumped, and sadly this finding reiterates that idea: men see women who appeal to everyone as hard to get, and women who appeal to them as their type. A perfect match — someone worth writing.
OK Cupid's advice is to play up your least-liked trait, but you don't want to initiate a relationship through something you're self-conscious about. But if something sets you apart — and you like it — then maybe it's time to update your profile?