The Playboy Club: Empowering For Women?
The Playboy Club Cast Says Being a Bunny Was Empowering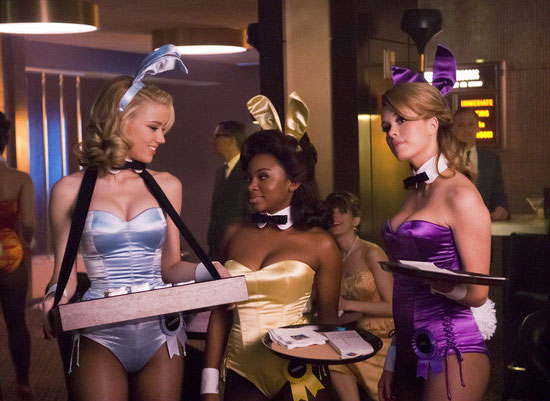 NBC's The Playboy Club is debuting this Fall, and the show centers on bunnies at a Playboy Club in '60s Chicago (the city where the first Playboy Club opened in 1960). Taking a cue from Mad Men and its own Playboy Club connection, the show glamorizes the scantily clad bunnies and the male-centered time period they lived in. The cast has been well-prepped on defending the show from critics who hear Playboy and think centerfold, with leading lady Amber Heard saying this at the Summer TCAs:
"Maureen by no means relies on any character, male or female, as you'll see throughout her journey, and it's empowering. This is about choice, ultimately. It was a different generation, there were different opportunities and different expectations for women . . . It's chauvinistic to deny a woman her sexuality. If they are making the choice, then they're not being exploited."
I'm sorry, but while the bunnies at these clubs kept their clothes on, serving groping men while dressed in a sexed-up bunny suit wasn't about female empowerment, and it's definitely a leap to describe it as "chauvinistic" to say otherwise. These women were doing what they had to do to get by; they weren't celebrating their sexuality.
Gloria Steinem recently opened up in Interview magazine about going undercover as a bunny at a Playboy Club in 1963 and the exposé that followed. She said, ". . . I identified with all the women who ended up an underpaid waitress in too-high heels and a costume that was too tight to breathe in. Most were just trying to make a living and had no other way of doing it. I'd made up a background as a secretary, and the woman who interviewed me asked, 'Honey, if you can type, why would you want to work here?'"
Now I haven't seen the show yet, but from the commercials and the cast and creator's descriptions that include words like "fantastic and imaginative," "nostalgia," and "fantasy world," I don't imagine the hard realities of why these women worked in bunny ears will be examined, while the glamorous costumes and classic music will sugarcoat the era.
What do you think? Do shows like The Playboy Club and the upcoming '60s-stewardess-centered drama Pan Am idealize and glamorize women's objectified past? Or is it just harmless nostalgia looking at how far we've come?