Playboy Cover of Mad Men's Crista Flanagan
Can Porn Be Tasteful?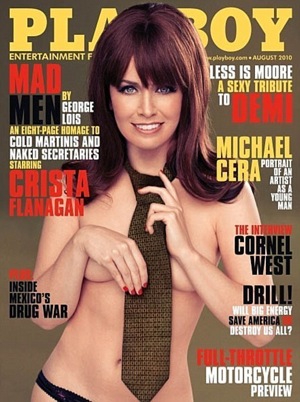 Just like us, Mad Men star Crista Flanagan is getting into the '60s before the new season. Crista, who plays dangerous secretary Lois Sadler (the one who took off a guy's foot with a lawnmower), covers the August issue of Playboy re-creating 1960s porn.
The cover has a vintage look to it, and Crista says she felt like the shoot brought to life an era gone by: "I really did feel like I was re-creating something and that I was bringing to life these women who already posed for Playboy in the '60s . . . This was trying to capture an era."
Like celebrities before her, Crista likely appreciates the attention a Playboy cover brings, but the shot does have a more sophisticated feel than Heidi Montag's dirty cover or Levi Johnston's shower scenes. And even if it's not turning you on, you might appreciate the artistic value of re-creating 1960s pinups. If art lacks an objective definition, so would artistic porn — if it's even possible. Do you think porn can be tasteful, or is that an oxymoron?