Pop Culture Reference in Gossip Girl, "Double Identity"
3 Pop Culture References From Last Night's Gossip Girl
Last night Gossip Girl staged a satisfying setup. All characters are headed back to New York to start the school year off on a dramatic foot, but there are a few literary and pop culture references to note first.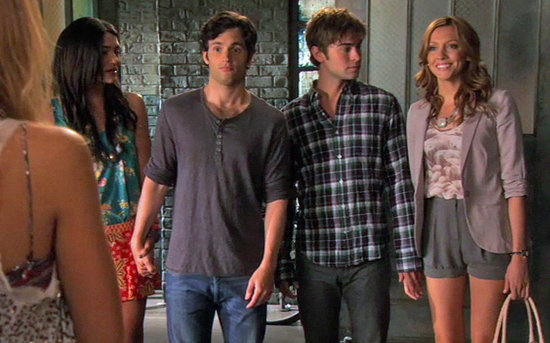 The conniving Juliet, whose own fate is alluded to with a literary reference in last week's episode, proves she did her sophomore lit reading when she says, "The life of Serena van der Woodsen is like the most complicated Jane Austen novel." Sure Serena's choosing between two guys a la Pride and Prejudice, but do you see anything else? If anything, the fact Juliet makes a reference proves just how carefully fixated she is on her subject.
What else? Find out below.
The detective investigating Chuck's nondeath is Inspector Chevalier. This could be a coincidence (doubtful), but more likely it's a reference to Chevalier Dupin, a character in Edgar Allan Poe's "Murders at the Rue Morgue," a short story set in Paris and the catalyst for the detective fiction genre.
Finally, this is less of a reference and more of possibly lifting the plot of Mad Men. When Chuck says, "I woke up my ID was gone. Nobody knew who I was. . . I realized I might be alive, but Chuck Bass doesn't have to be," I hear Don Draper talking. A reverse Dick Whitman for Chuck Bass?