Pope Benedict XVI to Resign
The Pope Resigns With Mixed Legacy on Marriage, Condoms, and More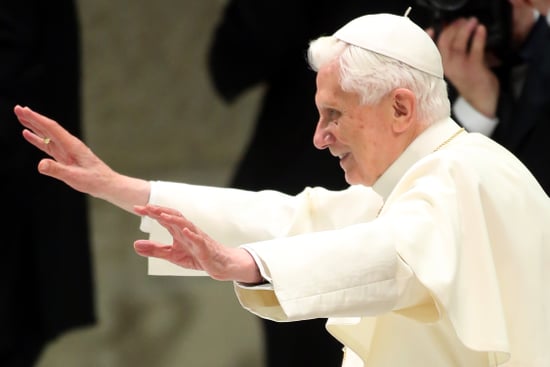 The Vatican announced today that Pope Benedict XVI will resign, making him the first pope to do so in six centuries. The former Cardinal Joseph Ratzinger became pope in 2005, and he will step down at 8:00 p.m. Rome time on Feb. 28 due to advanced age. The pope is 85. Over the past eight years, he has led the Church's staunch stance against gay marriage, but he has also showed some modernization on the issue of condoms, especially in Africa. As the leader of the Catholic Church, he has the power to influence the actions and attitudes of millions around the world. Before we find out who will inherit the papal Twitter account, let's look back at Pope Benedict's XVI's legacy on issues of sexuality.
On Condoms and AIDs
The pope created an uproar among public health workers and many everyday Catholics during a 2009 trip to Africa when he declared HIV/AIDs "cannot be overcome through the distribution of condoms." But Pope Benedict XVI changed his position in 2010, saying condoms can be used to stop the spread of the deadly disease. While obvious, the statement also marked a landmark break from the Church's blanket ban on contraception. In fact, the pope said in some cases, contraception is "a first step in a movement toward a different way, a more human way, of living sexuality."
On Marriage
When it comes to marriage, sexuality, and gender, the pope's legacy is not one of modernization. He encouraged Catholics to oppose "unnatural" gay marriage and adoption, and after Maryland legalized gay marriage in 2012, for example, the pope condemned it in a speech to Catholic US bishops, saying, "Marriage and the family are institutions that must be promoted and defended from every possible misrepresentation of their true nature." He also addressed the issue in December of 2012, saying there is "a need to acknowledge and promote the natural structure of marriage as the union of a man and a woman in the face of attempts to make it juridically equivalent to radically different types of union."
The pope also actively spoke out against cohabitation, telling church leaders not to ignore the "serious pastoral problem presented by the widespread practice of cohabitation."
On Abortion
In a 2005 address in Rome, the pope criticized contraception and abortion, saying, "How contrary it is to human love, to the profound vocation of man and woman, to systematically close their union to the gift of life, and even worse to suppress or tamper with the life that is born." On the issue of abortion, however, it also made news when the Vatican encouraged priests to forgive the sin of abortion specifically at confession held during the pope's visit to Spain for World Youth Day in 2011.
You can watch the Vatican news conference below, during which the spokesman says the pope took everyone by surprise.