Popular Wedding Traditions
10 Wedding Traditions More Popular Now Than Ever
I worked at a country club for two Summers in college, and I became totally immune to the specialness of weddings. They all began to seem the same! Those that stood out abandoned status quo and personalized the event in some way, even if it was just incorporating traditions from other cultures.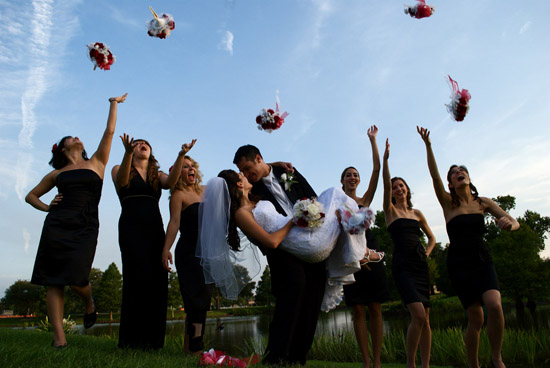 That desire to stand out has made several traditions seem way too staid, stuffy, and impersonal. Now we pick and choose our traditions, forcing some to disappear while allowing others to have their moment. See what traditions are more popular today than they were in the '60s below.
Father walking bride down the aisle
Throwing the bouquet of flowers
Best man speeches
Emotional first dance
Bride and groom cutting the cake
Signing a guest book
Party favors
Bouquet of flowers for mothers of bride and groom
Group photos
Man proposing on one knee
Meanwhile traditions like having a drink before walking down the aisle, asking the bride's father for permission, changing into going-away suits for honeymoons that immediately follow weddings, throwing confetti and decorating cars with "just married" signs, and carrying brides over thresholds are nearly extinct. Compare what's in and out, and you can see how extravagant weddings have become. They've gone from expected rites of passage to big days that take big money to pull off.
Source: Flickr User Nathaniel KS