President Obama Calls Anthony Weiner a Distraction
Obama Calls Weiner a Distraction as an Endless Supply of Pictures Come Out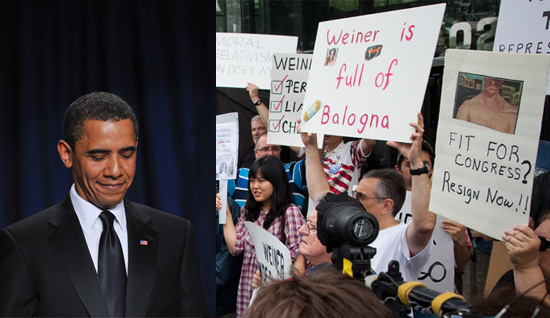 Weinergate is a well of puns and jokes for late-night comics. But as more lewd photos of Anthony Weiner emerge, the President has made it clear that he finds nothing funny about the Democratic congressman's penchant for sexting.
Today a White House spokesman said, "The president feels, we feel at the White House, this is a distraction. Obviously, as Congressman Weiner has said himself, his behavior was inappropriate, his dishonesty was inappropriate." The public keeps finding out just how inappropriate the behavior was. Yesterday TMZ released half-naked photos Weiner took at the congressional gym. And as we discovered last week, he was apparently doing all of this while his wife was pregnant.
Weiner has asked for a leave of absence, but has not stepped down, and is seeking "treatment." Obama's press secretary didn't go as far as to call for Weiner's resignation, but it's clear the pressure's increasing. Do you think he should step down or let the voters decide?