President Obama on Dark Knight Shooting
Obama Tells Shooting Victims We Will "Be Here For Them as a Nation"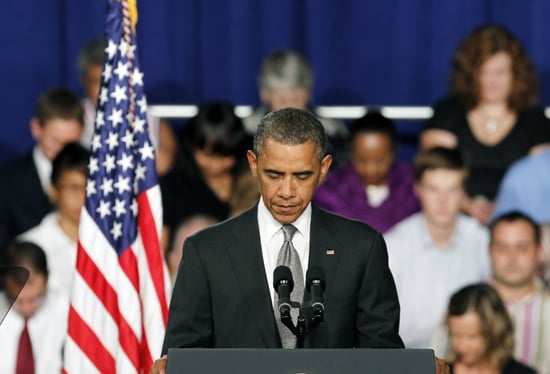 President Obama just spoke about the tragic shooting at The Dark Knight Rises screening in Aurora, CO, saying, "We may never understand such violence. Such evil is senseless. It's beyond reason." The president told the victims that "we will be here for them as a nation," during a speech given in Ft. Myers, FL. It was supposed to be a campaign event, but President Obama canceled it today following the shooing that left 12 dead and dozens injured. Both the Romney and Obama campaigns are pulling their negative ads in Colorado.
In his remarks, President Obama struck a personal note, sharing how the shooting impacted him as a father. "I'm sure that many of you who are parents here had the same reaction that I did when I heard this news. My daughters go to the movies. What if Malia and Sasha had been at the theater, as so many of our kids do every day. Michelle and I will be fortunate enough to hug our girls a little tighter tonight, and I'm sure you will do the same for your children. But for those parents who may not be so lucky we have to embrace them."
President Obama also took away this lesson: "Our time here is limited and it is precious. What matters at the end of the day is not the small things. It's not the trivial things, which so often consume us and our daily lives. Ultimately, it's how we choose to treat one another and how we love one another." A moment of silence followed his comments.