Presidential Debate Bingo Game
Print and Play Our 2012 Presidential Debate Bingo!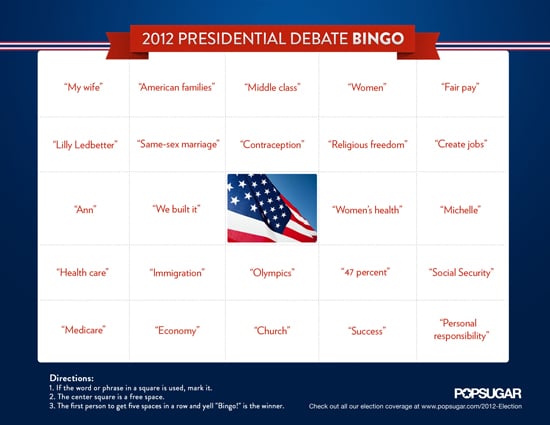 Ready to root for your political party? Tonight is the second presidential debate between Republican candidate Mitt Romney and Democratic incumbent Barack Obama. If you're tuning in, be sure to join us for our LIVE debate preshow and postshow on PopSugar as we break down everything you need to know going into it and the night's biggest moments right after! And here's another way to get in on the debate excitement: jazz up your viewing party with our presidential debate bingo!
Here's how it works: just click below to download the five different bingo boards (including a blank one), print them out, and play a presidential debate version of bingo at your viewing party! These are the links to the different printable bingo boards:
Now put on some patriotic garb, invite over fellow politically minded friends, and play some bingo!