Prince William and Kate Middleton's California Trip Schedule
William and Kate's California Adventure to Include Red Carpet, Polo, and Charity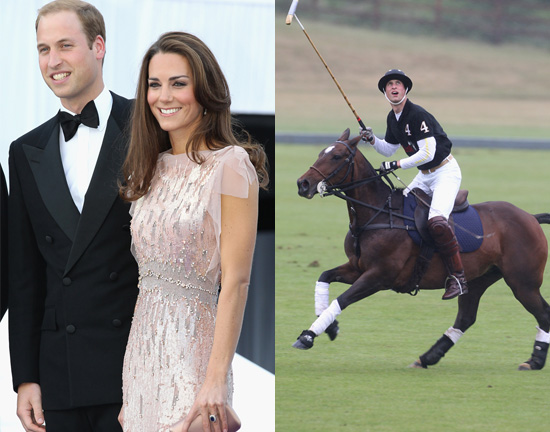 William and Kate only invited a few celebrities to their wedding, but they should make up for it on their upcoming trip to Hollywood. Although a spokesperson assured us last month that the trip would be a "working visit" and not an opportunity to meet celebrities, the newlyweds have found a way to mix business with glamour. They'll be hosting a red-carpet event for BAFTA, which makes perfect sense since Prince William is the the president of the British film and TV academy. Here's a look at the latest details for their California adventure, just released today.
July 8: The Duke and Duchess will meet entrepreneurs in style at a reception at the Beverly Hilton. Later, they'll mingle with politicians and VIPs at the UK's Consulate General.
July 9: The pair and perhaps some in their traveling entourage of seven, which includes a hairdresser, will head up the coast to Santa Barbara, where Prince William will play in a polo match benefiting the American Friends of the Foundation of Prince William and Prince Harry. Kate will be on hand to hand out prizes.

Then they'll head back to the Belasco Theater in LA for BAFTA's Brits to Watch gala, to be attended by British television, movie, and theater stars, as well as budding young talent. The couple's private secretary says, "The goal is not to meet celebrities. The goal is to connect young British talent with Hollywood decision makers, the people in the back room who put the deals together." Inside, Prince William will give a speech.

July 10: William and Kate will interact with everyday Americans on their third day, visiting LA's Inner-City Arts, which uses art to help homeless children. In the evening, they'll attend a war veterans event a Sony Studios.
Do you think they'll good taste of America with this itinerary? Don't forget, it's Kate's first trip ever to the US!