Prince William and Kate Middleton Engagement Facts
6 Things You Didn't Know About Prince William and Kate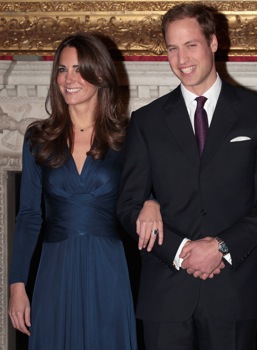 Oh my King James God. After months, if not years, of speculation, Prince William and Kate Middleton announced their engagement today. Kate may be flashing Princess Diana's engagement ring, but she's not Catherine of Wales yet. So before she becomes so royal that she doesn't need a last name, let's talk lesser-known facts about the couple that are two heartbeats from the throne.


Love at first sight, for William: Prince William first spotted Kate when she walked the runway in a black bandeau, bikini bottoms, and a sheer black dress at a charity fashion show in 2001. He tried to kiss her at a party afterward, but she pulled away, as she was dating someone else. The prince "didn't seem to care."
They lived together first: The two lived in a house together platonically their second year of university while dating other people. But not for long!
Kate played hard to get: When their relationship hit a rocky patch, Kate took her mother's advice and gave William some space. Instead of spending weekends together at school, she traveled to her parents' house for a break.
Read the rest below.
It got complicated: Kate's just like you, if you ever broke up with your live-in prince boyfriend and kept rooming with him. That's what the two did during a college breakup (not the famed 2007 one) while they were living in off-campus estate housing.
First middle-class queen-in-waiting: While it's not the first time English royalty has married beneath its class, Kate will be the first middle-class queen. That's because guidelines for what constituted as royal marriage material were much stricter in the past. For example, Henry VIII's second wife, Anne Boleyn, was an aristocrat but not royalty. Kate Middleton is purely middle class; though her parents made millions from a family party-planning business.
Soldier's wife: Yep, the next few years will be more military wife than London life for Kate. The couple will live in northern Wales, where William is stationed with the Royal Air Force, but I'm sure they'll get some nice barracks. It's good to be Mrs. William Arthur Philip Louis of Wales!
They really don't have a last name, do they?