Prince William and Kate Middleton Inviting Exes to Wedding
Putting an Ex on Your Wedding Guest List — a Do or a Don't?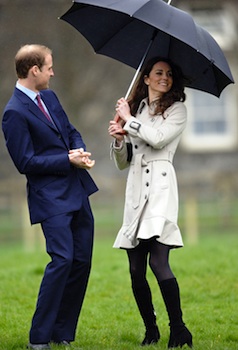 It may feel like the polite thing to do, but the real awkwardness is for the invited ex. Say no, and you fear it will be read into; say yes, and you have to actually go. Oddly, though, British royal etiquette encourages brides and grooms to invite exes.
"In the British royal family, which follows rules of etiquette established hundreds of years ago, it's just fine to invite exes, people who broke your heart or, vice versa, friends with benefits, those you lived with for years — all the 'almosts' from your single life."
Prince Charles invited numerous exes to his first wedding, and now both Kate Middleton and Prince William have put their "almosts" on the list. Kate is inviting her first boyfriend Rupert Finch, who's described by The New York Times as a "dark-haired, olive-skinned polo player who looks like a Calvin Klein model." While William's inviting four of his previous girlfriends, just the serious ones though!
One reason British royalty welcomes exes is because holding onto hostility is traditionally seen as beneath them. Besides, high society in England is a small world, so there's incentive to maintain positive relationships. "It's shrewd to be extra-considerate to your exes, said William Norwich, a special correspondent at Town and Country magazine. "Keep your exes close. Like keeping your enemies close."
Thankfully, most of us don't have that kind of pressure! So for those of us outside British high society, is inviting exes to weddings ever a good idea or is it always a don't?