Proposition 8 Judge Is Gay, Could Be Disqualified
Gay Marriage Opponents Say Gay Judge Can't Rule on Case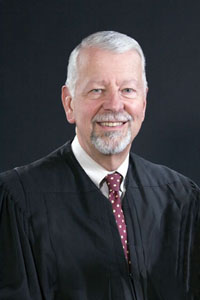 Last year, US District Chief Judge Vaughn Walker ruled there was no evidence same-sex marriages harm heterosexual marriages, and thus California's Proposition 8 is unconstitutional. Since then, Judge Walker, a Republican appointed by George Bush Sr., has retired and revealed he is gay and has been in a long-term relationship for 10 years. (Disclaimer: I worked for Judge Walker in the Summer of 2007.)
As you might guess, supporters of Prop. 8 have filed a motion to invalidate Judge Walker's decision because "given that Chief Judge Walker was in a committed, long-term, same-sex relationship throughout this case (and for many years before the case commenced), it is clear that his 'impartiality might reasonably [have been] questioned' from the outset."
Using logic behind the idea Judge Walker has something to gain if Prop. 8 ended, shouldn't straight-married judges be disqualified too, since, as Prop. 8 supporters argue, gay marriage would imminently threaten their marriages? Implying a straight judge would have nothing at stake seems to undermine the argument for a gay marriage ban in the first place. Not to mention, if a gay judge can't rule on a gay discrimination case, can a female judge work on a sex discrimination case? What about an African-American judge presiding over a race discrimination case?
Despite his sexuality, Judge Walker has found himself on the other side of the gay rights debate. When he was a lawyer, he represented the US Olympic Committee in a suit preventing a San Francisco group from calling its competition the "Gay Olympics." That position, which was considered anti-gay, caused liberals to block his first nomination by Ronald Reagan. Based on the fact Prop. 8 proponents only called two witnesses and failed to convince Gov. Arnold Schwarzenegger and California's attorney generals to defend the ban, this seems less about Judge Walker's impartiality, and more like a last-ditch attempt to throw out Judge Walker's unfavorable ruling. Do you think they have any chance?