Prostitute Who Slept With French Soccer Players Gives Interview
French Start Kissing and Telling Like Americans and Brits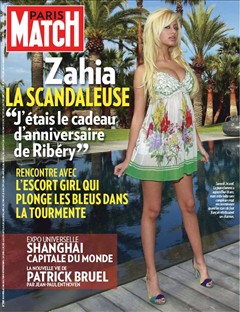 Michelle "Bombshell" McGee, Jaimee Grubbs, Rielle Hunter, or Ashley Dupre would never exist in France — or would they? The French press has traditionally passed on tell-all sex stories, vehemently believing that such smut diminishes the profession of journalists. But times they are a changing.
For what appears to be the first time, a French publication has published a kiss-and-tell item. Paris Match ran an interview this week with an escort who allegedly slept with three soccer players of France's national team. She disclosed details including the fact that she charged as much as $2,500 a night (word is she got over $100,000 for sharing such details).
One member of the French press summed up the old guard's view: "It is the first time I have seen this here. It means we have turned a corner and we are on the slippery slope towards Anglo-Saxon customs. It's sad but I think it's irreversible." It's hard to argue that such stories aren't part of our "customs" in the US. Kiss and tell sure sells well around here lately.