Puppet Sex Therapy Show on Logo
4 Reasons to Watch Felt, the Sex Therapy Show With Puppets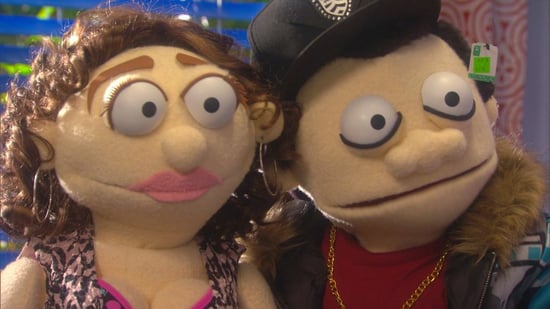 What do you get when you mix Sesame Street's Bert and Ernie, Comedy Central's Crank Yankers, and Dr. Drew's Loveline? Felt, a new show on Logo that uses puppets to act out real couples' sex therapy sessions and "homework" assignments. The show, which debuted last week and airs every Monday at 10 p.m. EDT, offers relationship realities most can relate to and even some decent advice. After screening the first two episodes, I caught up with Brent Zacky, the senior vice president of original programming and development for Logo. Based on what I saw and our conversation, here are four reasons to check out the show.
Real people participated, without hoping to get famous. Typically, people who sign up for therapy-based reality shows do so with the hopes of getting some sort of recognition. Logo's Brent told me, "A lot of people who want to participate in things like this do it because they want to see their face on television, want to be able to share that with their friends, and their family." Instead, the network was looking for therapists who would give genuinely good advice and for couples who would show their vulnerabilities — without the promise of fame, since their faces were not recorded. And, Brent says, only recording voices allowed couples to open up more: "You don't have to worry about saving face; you don't have to worry about going the extra mile not to have a gaffe on camera."
It will make you laugh. Tough topics like cheating, lack of attraction, and breakups come up on the show, which somehow maintains a funny side. You just have to laugh at the couple (of puppets) checking out a sex shop together or the one boyfriend who can't help but interrupt his partner in therapy every. single. time. But Brent believes the humor of the show is more complex and what you find funny is dependent on your current relationship status. He said, "Some people would find some of the bits extraordinarily funny because it reminds them of friends or other people. Other people might not find certain bits as funny because it's a little too close to home."
Puppets give an honest reflection of people. One of my favorite parts of the show are the puppets' mannerisms, which capture so much of the unspoken realities of relationships. A recorded scene that takes place at a restaurant is one of the best examples. As a woman opens up, her boyfriend puppet leans back in his chair with his eyes closed. Brent explained the scene's appeal: "You think to yourself, 'Oh my gosh, he totally got it! He got what she was saying!' And instead he goes, 'I'm buzzed. I need another drink.' The way they played that up physically with the physical humor really brought a moment of levity to it, and yet that's a very real moment in their relationship. I mean, it's clear to me at that point that that couple has a big huge disconnect."
It bridges a gay/straight divide. The show features an even mix of gay and straight couples, as you might expect on Logo. When I asked Brent about the balance, he said, "The bottom line is that love, intimacy, and relationships are universal." Through the show, he hopes, viewers will see that no matter whom you love, certain things are just going to crop up, including lack of communication, lack of intimacy, or infidelity. "If we stop worrying about who's loving who," Brent said, "I think it'll make the world a better place."
The network's program head concedes that people tuning into Logo bring a certain openness anyway and that having a meaningful impact on equality by showing gay and straight couples in a similar light is "a high-brow reach for a puppet show." But, Brent admits, "it would be fantastic." Check out highlights from the show in the video below.