Push Girls Sex Guide
Sex in a Wheelchair? Push Girls Get Real About Getting It On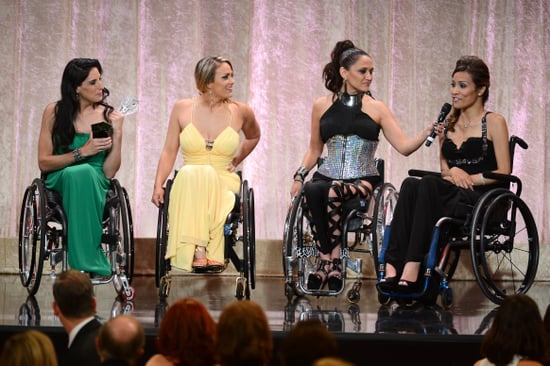 The stars of the Sundance series Push Girls — Tiphany Adams, Auti Angel, Angela Rockwood, Mia Schaikewitz, and Chelsie Hill — are a group of kickass friends who happen to be in wheelchairs. The award-winning reality TV show (on its second season) follows the paralyzed women as they bravely help others struggling with disabilities and face their own hurdles in life, career, and relationships. And when it comes to sex, the ladies have found people have a lot of questions but are too shy to ask. So they're releasing a "sex guide," written by Paula Froelich, titled The Push Girls' Guide to Getting Your Groove On. We got a sneak peek of the first few chapters and are sharing some of the most intriguing insight into what sex is like on wheels. Here's what we learned:
You Can Still Have an Orgasm
"I think people can figure out that you can have sex, but what I think they're asking is, 'do you enjoy it and can you have an orgasm?'" Mia said. Angela, a quadriplegic and enthusiastic sexer adds: "I can feel all up inside there and left labia and clitoris and yeah, I can feel it."
You Don't Just Date People in Wheelchairs
"Before the first season of the show aired, I think a lot more people were wondering like, 'Hmmm. Can they go on dates? If they go on dates, it's probably with people in wheelchairs?" Tiphany laughed. "Please. I'm like, if you have blue eyes does that mean you only date people with blue eyes?"
Self-Love Can Be Complicated
"I was my best friend," Auti says. "I had shower heads, fingers, tub faucets . . ." But for Angela, masturbation is not so much a solo venture. "Can I masturbate?" Angela asks, "Put it this way: I can do anything that I put my little heart to — but there's gonna be some assistance involved. Maybe prop me up, put some pillows behind me, give me the toy — whatever."
Suitors Have Used Some Horrible Pick-Up Lines
If you'd like to see a Push Girl evaporate before your eyes, just utter one of these awful lines:
"Can I Have a Ride?"
"Flashy chair — you have sex in that thing?"
"You're so pretty, it sucks that you're in a wheelchair."
For even more eye-opening revelations into the lives of these very cool women, be sure to check out the first three chapters of the guide tonight on SundanceChannel.com! Push Girls airs Monday nights at 10pm ET/PT on Sundance Channel.