Quotes From Cindy McCain and Meghan McCain at 2010 Women's Conference
Meghan and Cindy McCain Discuss Dirty, Sexy Women in Politics
Meghan McCain has never been shy about her political opinions. The 26-year-old thinks the media has an unhealthy obsession with Sarah Palin and that President Obama should stop talking about what's on his iPod. Speaking with her mother, Cindy, at Maria Shriver's Women's Conference, Meghan opened up even more. I attended the Q + A and here's what I found out!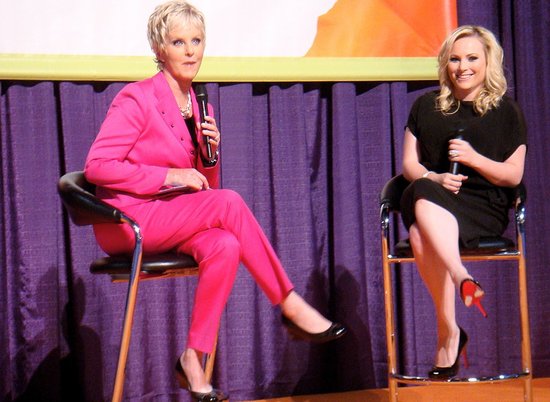 Does being a mother make a person a better political candidate?
Meghan: For my generation, motherhood is a lot less emphasized. I'm 26, and hardly any of my friends are married with kids. It's not a big deal.
Cindy: Motherhood gives you an important perspective. It gives you an opportunity to look at global issues like poverty and hunger in a different way.
Can female icons be smart and sexy?
Meghan: I think women can do anything. No matter what you feel about Sarah Palin, Nancy Pelosi, or Hillary Clinton, looks often come first in a discussion about them. I struggle with this. So, being a woman in any industry you have to think: can I be smart and still like makeup? But women shouldn't have to change themselves.
How can women support each other?
Meghan: We as women need to condemn women who bully other women. Most criticism I've gotten comes from older women. I find it very dated, and very '70s. Women candidates are not taken as seriously because mainstream media is run by men and sexist women.
What do you make of female candidates like Christine O'Donnell?
Meghan: I politically incorrectly called Christine O'Donnell a "nut job." But she has no experience, no success in any industry whatsoever. The Tea Party puts these candidates up who are national embarrassments, and as a woman I take particular offense. We have lots of women who could be kick-ass senators — and Christine O'Donnell is not one of them.
How did you get involved with the No H8, pro-gay marriage campaign?
Cindy: I'm so proud of what we're doing with that. Especially after what happened with that young man who felt the only out was suicide. We need to stop that and it's going to be our young people who stop that.
Meghan: People find it ironic because we're Republican and straight. But working on that together has bonded us.