Quotes and Picture From Lady Gaga's Vanity Fair Cover Interview
Lady Gaga Refrains From Sex For Creative Reasons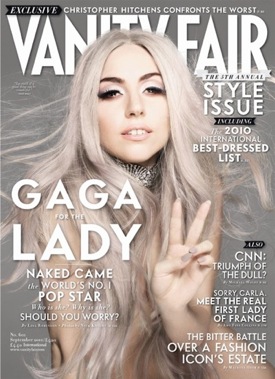 Lady Gaga traded in her machine gun bra for a more peaceful look for the September cover of Vanity Fair. In the issue, she talks drug addiction, her "little monster" fans, and sex — or lack thereof.
The ever-changing pop star has gone on the record before about wanting to get to know someone before jumping in bed, but in her latest interview she says celibacy leads to another c-word: creativity. Here's what she had to say:


On why she avoids having sex: "I have this weird thing that if I sleep with someone they're going to take my creativity from me through my vagina."
On how you can feel alone in a relationship: "I'm perpetually lonely. I'm lonely when I'm in relationships. It's my condition as an artist."
On being drawn to the wrong kind of people: "I'm drawn to bad romances. And my song ["Bad Romance"] is about whether I go after those [sort of relationships] or if they find me. I'm quite celibate now; I don't really get time to meet anyone."
Lady Gaga's style is one of a kind, but her fans might relate to her latest outlook on love and sex. Do you?