RNC 2012 Schedule
Your Guide to the GOP Convention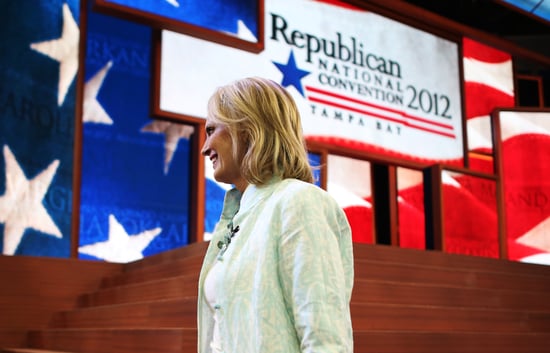 The Republican National Convention kicked off in Tampa today, after officials decided to push it back a day due to Tropical Storm Isaac. There's been much talk about women this election, with single women making up the fastest-growing voting demographic and the Obama campaign touting support for abortion rights, Planned Parenthood, and free birth control as policies favorable for women. With an extreme party platform and comments about "legitimate rape" from Rep. Todd Akin, Republicans haven't helped their cause with many women. But this week in Tampa, Mitt Romney will make the case that the election is about more than these issues. Romney will talk about the unemployment rate, the national debt, and America's future, and he'll have some high-profile help.
We'll be in Tampa to cover it all. During the convention, we'll try to figure out how exactly a Romney/Ryan administration could impact our lives, talk to female voters, and share our reactions to the main events. If you want to follow along at home, here is a simple breakdown of each day's top happenings. It includes the schedule revisions made due to Tropical Storm Isaac. You can watch on TV or YouTube's political channel. And of course, check back here for our behind-the-scenes look.
Tuesday
The first night is ladies' night at the RNC. High-profile Republican women will give prime-time speeches. Expect to hear from South Carolina's Governor Nikki Haley, the youngest governor in the US and only the second Indian-American to be elected governor in American history. Mrs. Luce Vela Fortuño, the first lady of Puerto Rico, follows Gov. Haley. She'll introduce the candidate's wife, Ann Romney. The former first lady of Massachusetts, scheduled to speak at 10 p.m. EDT, is expected to vouch for her husband's policies and character. She'll be followed by tough-talking New Jersey Gov. Chris Christie. Earlier in the night, former Senator Rick Santorum, who has said some worrisome things for women over his political career, will address the convention.
Wednesday
Big GOP names, like John McCain, Bobby Jindal, and Tim Pawlenty, are scheduled to take the podium on Wednesday. Come 10 p.m. EDT, the popular former Secretary of State Condoleezza Rice will stump for Romney. Rice will be followed by Gov. Susana Martinez, the first Latina governor in US history. Martinez, a former Democrat, speaks fluent Spanish, bought her first gun when she was 18, and grew up in a family that ran a small business. She's also not afraid to differ with her party, believing: "Sometimes Republicans engage in number-crunching analysis that doesn't always take the neediest into account." Her message might soften the perception of budget-crunching VP candidate Paul Ryan, who will close out the night. Here's a refresher on Paul Ryan's view on issues that impact women's lives.
Thursday
On the final night of the RNC, Mitt Romney will make his appeal to the broad American public with his acceptance speech, scheduled for about 10 p.m. EDT. Florida Senator Marco Rubio will introduce the nominee. One of Romney's five sons, Craig Romney, will also speak on behalf of his father on Thursday.
Be sure to follow TrèsSugar on Instagram for the latest on-the-scene pics, as well as TrèsSugar on Twitter for our instant reactions.