Rape in the News 2013
Rape in the News: What You Need to Know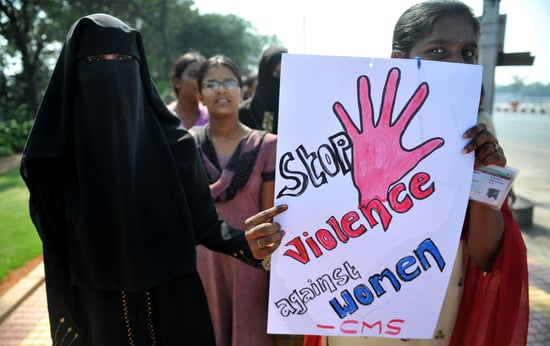 Sadly, this year has started off with a lot of news headlines about rape. It's always difficult to discuss topics involving violence against women, but it's also important for us to talk about the reality and prevalence of sexual assaults so that we can do more about preventing them in the first place. And as brave victims tell their stories, they'll hopefully encourage more women to speak out and, as a result, more rapists will be put in prison. Plus, we all need to be clear on the fact that rape is rape — since even our politicians seem to be unclear on what it is. So we're breaking down the latest news relating to rape as a reminder that we need to seriously crack down on this terrible crime.
The Steubenville Rape Case
Last week the world was horrified by the YouTube video that Internet vigilante Anonymous leaked of drunk Steubenville high school athletes joking about a girl who was raped by two football players. The disturbing video put the Ohio rape case against the two 16-year-old boys (who are set for trial Feb. 13 on charges that they raped a 16-year-old girl in August) in the public eye, creating a domino effect of events. Notably, the boy in the video has dropped out of school, Anonymous has continued to leak information about the case, and in response, Steubenville city officials have launched a website about the facts of the crime, including helpful resources for victims. Hopefully this case will be the catalyst for rape accusations against athletes — and in general — to be taken more seriously.
California's "Spouse Impersonation" Legal Rape Loophole
An antiquated California statute (written in 1872) led to the retrial of a convicted rapist who snuck into a sleeping woman's bed after a party pretending to be her boyfriend. The defense? She wasn't married. The state's law stipulates that "rape by deception" can only happen when the victim "submits under the belief that the person committing the act is the victim's spouse." Yesterday, a Bay Area state senator introduced new legislation to prevent this from happening again. California Women's Caucus chairwoman Noreen Evans introduced SB 59 to change the word "spouse" to "sexually intimate partner."
Keep reading for more rape-related headlines.
India's Gang-Rape Case
Recently, two highly publicized gang rape cases have brought to light the rape epidemic in India and the police corruption and incompetency that allows it to happen. One girl, a 17-year-old survivor, killed herself after being forced to choose between accepting a cash settlement or marrying one of her attackers. Another 23-year-old woman, Jyoti Singh Pandey, who was raped and beaten with iron rods, had severe brain damage and died two weeks later. Today, Reuters reported that three of the six men accused of raping and murdering Jyoti will plead not guilty due to "lapses in the police investigation." And what's even worse, the defendants' lawyer blames the victim, saying, "I have not seen a single incident or example of rape with a respected lady." We can only hope that all this attention on fixing India's gang-rape problem will lead to more convictions and more Indian women speaking out against their accusers.
"The Truth About False Accusation" Rape Graph
The Enliven Project released a rape graph, which uses data from the Department of Justice's National Crime Victimization Survey and FBI reports to show how rare false rape accusations really are. But while it's important to see that false accusations don't occur very often, the graph is a heartbreaking reminder that so many women don't report rape, even though — as RAINN reports — one out of every six American women has been a victim of rape or attempted rape.