Rashida Jones Interview on Celeste and Jesse Forever
Rashida Jones and Her Ex Will McCormack on Writing Celeste and Jesse Forever
You might know that Rashida Jones and Andy Samberg play a divorcing couple trying to remain best friends in Celeste and Jesse Forever. What you probably don't know is that Rashida cowrote the screenplay with her good friend, Will McCormack, whom she dated briefly years ago. I recently sat down with Will and Rashida, who told me that their own relationship inspired the characters. Read our conversation below.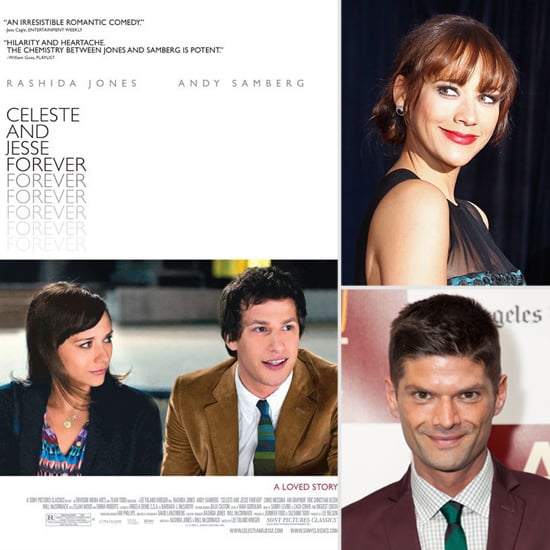 TrèsSugar: I noticed that Celeste was a more relatable and likeable "power woman." What clichés were you guys trying to avoid with her character?
Rashida Jones: There is definitely a cliché powerful woman in movies. She kind of has it all together, but she can't work out her love life. In our movie, you drop in and she has the guy and she doesn't want him.
Will McCormack: A lot of times in romantic comedies the heroine's life is falling apart, but she's still so cute! We wanted Celeste to just get down and dirty and for her heartbreak to be really heartbreaking and for it to be really ugly.
Rashida: I was insistent. That was my H&M sweater and I was like, "I want that sweater to be on her body for like a week in the movie," because you forget to change yourself and I really wanted it to look like she hadn't. Rashida of course washes her hair all the time. But we wanted it to look like Celeste hadn't bathed in a couple days and was just throwing on whatever was near her.
TS: As writing partners, friends, and exes, how much of the script was based on your relationship or past with each other?
Rashida: We dated for such a short amount of time, but really the essence of that relationship between Celeste and Jesse is very much like me and Will.
Will: I would say that Celeste and Jesse's friendship, kind of all of it, is the way that we are with each other; the intimacy and the shared history and all of the stupid little things they do with each other are things that we do. We just lifted our whole friendship and put it in a movie.
TS: Is Celeste brave or short-sighted to dump Jesse?
Keep reading for the rest of our chat.
Will: Good question. Both?
Rashida: It's not like she was brave enough to just let him off on his way. He's living in the guest house and they're together every day. I think they're trying to circumvent this inevitable passage and the grief that comes with that passage, and neither of them was able to.
TS: Why did you want to make a movie about people breaking up?
Rashida: There are a lot of romantic movies and it's aspirational. But almost every adult has had heartbreak. I want to see a movie about that because I've been through it and there are way more movies about the opposite.
TS: How did you find comedy in heartbreak?
Will: Just that it's so solipsistic. You feel so alone. It's funnier later.
Rashida: You think you're going to die; that's why it's funny.
TS: Did you guys know who you wanted to cast as Jesse from the beginning?
Rashida: Not initially. This movie took on so many lives as we were trying to get it made. We've been friends for a long time, Andy and I, and we've worked together before; his essence is so right for this part because everybody knows who he is and what he represents so when you get into the movie you don't have to do any work to convince the audience. We had even written in the montage, "Jesse man-child, Peter Pan syndrome, wearing a hoodie." You don't have to do anything, you know; that's Andy. There's nothing to do there.
TS: So, as a man and a woman who are friends, what do you think makes platonic male-female relationships work?
Rashida: Equality. Equality and communication —
Will: Maybe just getting the sleeping with each other out of the way early.
Rashida: Yeah. We did that early.