Real Reason Marriage Is on Decline
The Real Reason More People Are Saying "I Don't" to "I Do"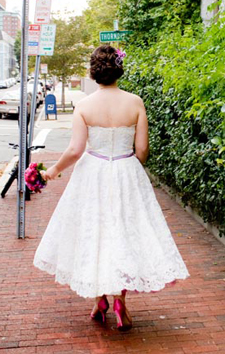 With marriage rates in a funk, the recession has been an easy scapegoat. But while a bad economy may dent the marital rate, is that really enough?
BBC Magazine suspects "modern life," interferes with old-fashioned marriage, because our lives are too hectic to plan a wedding. Sure, there is the grad school couple who delays wedding plans until campus employment isn't listed as their main source of income, but the real problem isn't that we're too busy to plan. It's that weddings have become elaborate extravaganzas that require the coordination of a musical on opening night.
When our parents married, mom bought a white dress, grandma ordered a cake, and the happy couple consummated their first dance in a church gymnasium. Today the perfect wedding is a fairy tale. It's your day. The big day. And it better be perfect.
Manufacturing a perfect day, whether natural or manmade, is impossible, but oh how we try. Hunt down the perfect dress on wedding blogs; book your venue two years in advance; coordinate a photographer, band, florist, officiator, and whatever else I've forgotten. It requires planning, down payments, and way too many shopping trips with mom. It can be more stressful than marriage itself!
The problem isn't that life is too hectic, or that weddings went bust with the economy, but that our wedding must haves read more like a list of demands than a bride's hopes. Are we too busy, or are our weddings?
Source: Flickr User Studio Nouveau