Reasons to Let Your Own Bridesmaids Choose Their Dresses
7 Reasons to Let Your Bridesmaids Choose Their Dresses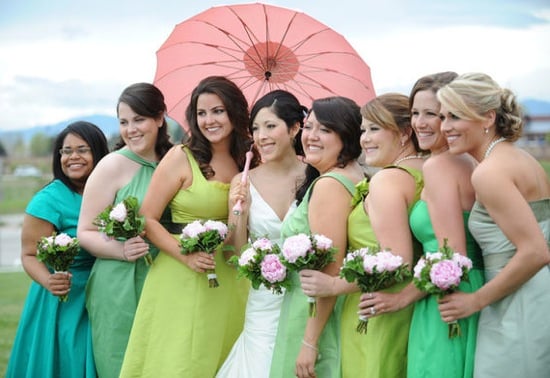 Bridesmaids and twins under the age of 10 must be some of the only people expected to dress alike on special occasions. Maybe it's time to kick the matching-satin habit and let your attendants choose their own attire for your big day. Here are seven reasons to at least consider it for your wedding.
They're paying. Typically bridesmaids shill out for the dresses, so letting them find something in their budget will reduce a lot of the stress and chance for uncomfortable situations.
They can pick a flattering dress. Unless you've found the sisterhood of the traveling bridesmaid dress, no one gown looks amazing on every woman. Let each bridesmaid choose something she knows she can shine in.
One less thing on your plate. It's hard enough to find "the one" perfect wedding dress, so leave the bridesmaid shopping to your friends, and focus on your dress and other planning details.
They can wear it again. Forgetting any past bridesmaid experience, it seems like most brides genuinely believe they've chosen a dress their attendants can wear again. But that's hardly ever the case. There's a greater chance your bridesmaids will pick a repeat winner though, if you let them choose something they really love.
Adds an original twist to your weeding. A variety of dresses is visually stimulating and will give your big day, and the pictures to follow, a refreshing feel.
No resentment. Your good friends won't be holding even an unconscious grudge at your wedding, knowing you trusted them enough to pick out a special dress.
Good karma. Who knows? Maybe they'll let you do the same when they ask you to be in their weddings!
Photo by Julie Afflerbaugh Photography via Style Me Pretty