Reasons the World Cup Is Good For Your Relationship
5 Reasons the World Cup Is Good For Your Relationship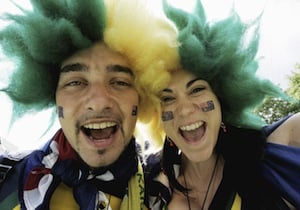 When the World Cup kicks off this Friday, soccer fans around the world will obsess for a month. According to one TV station's ad, this means girlfriends will have to endure four long weeks of neglect, since apparently only guys watch. The channel's ad offers a couple cheeky solutions: dust off your vibrator or turn on their soccer-free programming. But I disagree that we even need a solution. The world's major soccer event is a chance to enjoy the sport and improve your relationship. Here's why:


You can impress your mate. If you played soccer growing up, the action on the field, and not just the hot men, will intrigue you. Considering soccer is the most popular sport among American girls, I bet many of you former soccer players can dazzle your partners with your insider knowledge.
It's a chance to bargain. If you're not naturally inclined to watch sports, putting in time watching the World Cup will give you leverage when you try to get your significant other hooked on shows you like, be it Glee, True Blood, or the Real Housewives.
There are bonding opportunities. Whether you wake up at the crack of dawn to watch an important match, perfect yelling "goooooal" in unison, or commiserate when your team misses a penalty kick, getting into the tournament together gives you a chance to make memories.
Flirty rivalries allow you to kiss and make up. If you want to root for France and he's on board with Mexico, battle it out as sworn enemies throughout the match and then make up after . . . in the bedroom.
It's an excuse to socialize. Organize or attend game-day parties, and you'll get to know each other's friends better. This will come in handy when you want to have non-fútbol related fun together!
Will you be watching?