Recap of The Bachelorette Finale, Plus Video of the Proposal
Bachelorette Breakdown: Ali Gets Her Fairytale Ending!
On the Bachelorette finale, Ali traded her final rose for a ring! Roberto gave Ali her fairytale ending after a journey filled with guys with girlfriends and other slightly scary tendencies (looking at you, Kasey). Both Chris L. and Roberto impressed Ali's family, who made the trip to picturesque Bora Bora. But only one finalist danced his way into Ali's heart. We — Très and Buzz — have been checking out photos of Ali and Roberto finally out in public and discussing the evening's drama. Read our final thoughts and share yours in the comments!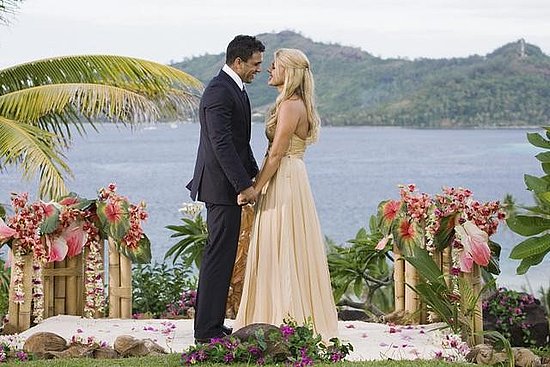 BuzzSugar: Wow, what a finale! I know I said it before, but I was really pleasantly surprised to see everything turn out the way it did. Not only did Ali get the proposal she wanted, but everyone just conducted themselves so well. Ali was incredibly thoughtful to consider Chris's feelings by breaking it off with him before the last-chance date, and then Chris just stayed so cool-headed, and well, honorable when he took the news. After the debacle with Jake and Vienna, I guess I had forgotten how civilized people can actually be!
TrèsSugar: I loved it, too. While I guessed Ali would choose Roberto, for the first time this season I felt some suspense! Once Roberto made his feelings explicit to her with the photo and by saying "I love you" nice and clear, I think Ali finally let her fears go and accepted that he could really like her and they could really have something. After that, she just couldn't fake it with Chris. I've always wondered how these people claim to be in love with two people at once, but Ali straight up said she couldn't. For once, a reality show felt a little real.
Read the rest of our thoughts and watch video of the proposal after the jump!
Buzz: I agree! Even during the After the Final Rose interviews, their feelings for each other felt genuine (though they are obviously still in the honeymoon phase!). I think it's very promising that they're both already discussing moving in together, and to San Diego, not Hollywood. They seem to be taking real steps to make it work outside of the show. OK, tell me the truth — did you tear up? I totally got misty-eyed throughout the proposal and during the bit about Chris's mom and the rainbow.
Très: Alright, I too got misty-eyed during the proposal. The show can be cheesy — they played The Lion King's "Can You Feel the Love Tonight" after all. But Roberto's words before and after he got down on one knee seemed genuine. He said he will always be by her side and make sure she wakes up every morning knowing she's loved, and when he says it, it's much less creepy than "guard and protect" Kasey. They couldn't stop smiling and neither could I. So how did you think Chris looked in the after show? Were you surprised he took it well?
Buzz: I thought Chris looked great, like a future Bachelor in the making (hint, hint, ABC!). You can tell he's nervous speaking on camera, but he really said just the right things to handle the situation. He didn't seem to hold any grudges or ill will toward Ali at all, but I do feel bad for the guy. You can tell he really, really wants to find the right girl. So now, the big, looming question: do you think Roberto and Ali will get married?
Très: If I had to bet, I'd say they will get married. As for Chris, I hope he takes some kissing lessons before they pick him as the Bachelor. I love the guy, but there is just something off there and it's hard to watch. But I do hope he finds a girlfriend, as he seemed more bummed about that than losing Ali specifically.
Buzz: His kissing does seem a little intense, but he could learn to slow it down — especially if he had 25 women to coach him!