Recap of The Bachelorette, Plus Video of Kasey Getting Left on the Glacier
Bachelorette Breakdown: Kasey's in Hot Lava
On this week's episode of The Bachelorette, Ali and her gang headed to Iceland. While things heated up between Ali and a few of the guys, others were left out in the cold. This morning we — BuzzSugar and TrèsSugar — have been chatting about the more outrageous moments. Check out what we have to say, and share your own reaction in the comments!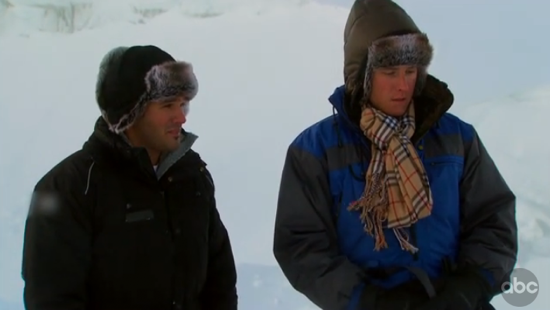 BuzzSugar: The whole reason I wanted to tune in last night was to watch the reveal of Kasey's tattoo. The producers really set this one up for a big blow-up by putting him on a two-on-one date with Justin (aka "Rated R"), but I was actually surprised that there wasn't more drama. Ali kept her composure for the most part when Kasey finally lifted his sleeve — she's a better woman than I, because I'm sure I would have laughed!
TrèsSugar: Speaking of awkwardly hilarious, what about when Ali and Justin boarded the helicopter and flew away with Kasey stranded on a glacier next to an active volcano never to be seen again? Talk about cold! Kasey, who "had his heart on his sleeve" and "his shield ready to go," really became the butt of all the jokes. How mean was it when they used passive-aggressive subtitles when he was reading his poem? I think he was just trying to speak Icelandic like the other guys. Moving on to Justin. I see why everyone hates him. He seemed very into promoting "Rated R" last night. He said getting a rose was one small step for Justin and one giant leap for Rated R, and he even called Ali his "championship belt." Gross.
For more of our thoughts, and to see video of Kasey's abandonment on a glacier, read more.
Buzz: I totally caught that, too! I actually wouldn't be surprised if Justin is the one that all the hoopla is about in next week's promo. He definitely seems like the shadiest of the remaining guys. Props to Kirk for telling Ali about his health condition, even though I didn't quite follow if it's still serious. And I loved their matching sweater outing (twinsies!). Kirk is definitely moving up on my list. Someone who has to step it up, though, is Frank. He used to be my No. 1 guy, but my stance is quickly changing.
Très: Frank Shmank. Although I do agree about Kirk. As for my former front-runner, Roberto was quiet this week, but Ali still has a crush. She totally thinks he's too hot for her, which could be good or bad. So let's talk about the other loser of the night: Chris N. Where the heck did he come from? The only thing I know about him is that he loves Mexican food (his lame answer when Ali asked him what his guilty pleasure was). Adios amigos.
Buzz: Chris N. has been coasting this entire season by hiding in the background — and frankly, by not calling attention to himself by being weird (looking at you, Kasey). He probably spoke more in the post-ceremony interview in the limo than we've heard from him this entire time! I definitely thought it was going to be him or Craig R., but Craig's fake tattoo kept him in the game. I've got to hand it to him, that was pretty hilarious; however, I'm not sure it will be enough to protect him going forward. Who do you think will get booted next?
Très: Well, I think whoever causes the drama is definitely gone, so maybe the other guys will be spared! My vote is either Justin or Craig R. I've seen zero sexual chemistry between Craig R. and Ali.
Buzz: Agreed. Note to the remaining guys: if you haven't kissed her by now, it's probably a bad sign.