Reese Witherspoon to Play Jazz Singer Peggy Lee
3 Things Reese Witherspoon Has in Common With Peggy Lee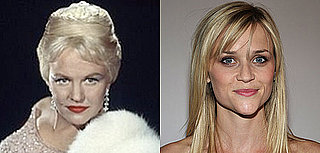 We heard Reese Witherspoon carry a country tune when she portrayed June Carter Cash in Walk the Line, but will her voice go low enough for jazz? We'll find out when she plays jazz/pop legend Peggy Lee in a new biopic that will be written and directed by Nora Ephron.
The two blondes come from backgrounds as different as the North and South, literally. Peggy Lee was raised in the lower classes of North Dakota, while Reese grew up in middle-upper class Tennessee. Yet they do have a few things in common — here's what we found.


Local celebrities first: Both were small-time stars before they hit it big. Peggy Lee sang on her own radio show, where she was paid in food by a local restaurant, and Reese starred in TV ads for a Nashville florist.
Changed names for professional reasons: They never changed their names for marriage, but they did for their careers. Peggy was born Norma Deloris Egstrom, and Reese's shortened her given name — Laura Jeanne Reese Witherspoon.
Academy-noticed actresses: Reese won an Academy Award when she was 30, but Peggy Lee was no stranger to Oscar glitz. Though first a singer, she dabbled in acting and was nominated for Best Supporting Actress for playing a jazz singer in Pete Kelly's Blues.
Now all the movie needs is a title!