Reverse Culture Shock
Cross Cultures: Reverse Culture Shock
Here's a post from OnSugar blog My DISFunkshion.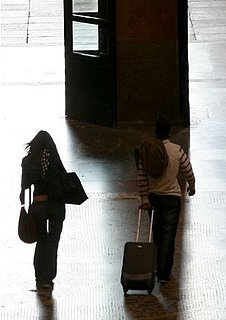 Studying abroad in Europe is definitely a life-changing experience, chock-full of nonstop activities and explorations. But what happens when you come home only to settle into your old routine in your old hometown?
We've all heard of culture shock – the sudden realization that, when in a foreign country, everything around you is new and strange. People experience in varying degrees, some with a sense of excitement, others feel helpless in the face of the changes. Similarly, the same can happen upon returning home. You had just settled into your new country, your new city – what's the deal with all this American culture now?
One friend described a particularly specific moment of her "reverse culture shock" when she went food shopping in her hometown's food market. When she was having trouble weighing her produce, she asked a store attendant for help … in Italian. My friend instantly became upset and frustrated in the face of having to balance the old and new cultures she had come to know.
What can one do to remedy this said reverse culture shock? Realize you need to expect it. Things change after a period of time away, but at the same time, they stay eerily the same. When first embarking on our journey abroad, my fellow students and I were warned endlessly of the culture shock we were bound to encounter, but not so much on our return home. Knowing to expect it helps to quell any shock no matter which direction you're traveling.
Want to see more? Start following My DISFunkshion or start your own OnSugar blog. Maybe your stories will be posted here on TrèsSugar!