Right to Watch Porn at Public Library
Americans Have a First Amendment Right to Watch Porn at the Library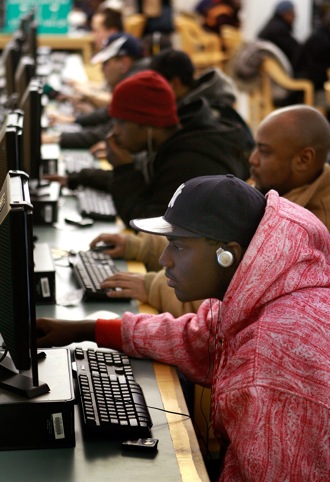 Parents beware! Danger may be lurking at your local public library. SafeLibraries.org tells the LA Times that libraries aren't doing enough to protect kids from inadvertently viewing pornography.
The paper reports on an incident from last December at an LA library. As kids waited in line to check out books, one patron watched pornography on a computer within sight. An uproar ensued, but city officials say the First Amendment grants patrons a right to access most porn on public computers.
Technically, libraries can install porn filters, but they must remove them if a patron asks for a site to be unblocked. Some cash-strapped libraries, unfortunately, can't afford the blocking software, so they've taken a low-tech approach: isolating computers so bystanders can't see the screens. I hope they don't give library porn watchers too much privacy, though!