Road Trip Tips and Ideas
How to Take a Road Trip If You're . . .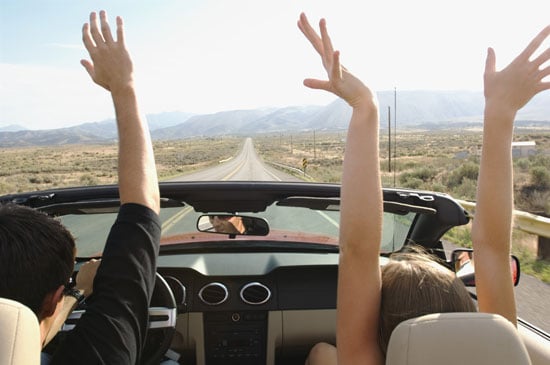 I can't believe it's already August, but that doesn't mean it's too late to plan a last-minute road trip: the quintessential Summer adventure. Make sure you check out these tips before you pack up, put the top down, and hit the open road. Here's how to take a road trip if you're . . .

With Your Best Friend: There's nothing better than blasting music and dancing in the car with your best friend. If you're taking a trip with your wingwoman, try to unwind from your normal schedule and see where the road takes you. On this road trip make it all about the journey, not just the destination. Be silly, sing loud, and surprise yourself. And if anything happens, you have your trusty bestie by your side!
With Your Boyfriend or Husband: If you haven't road tripped together before, this could prove to be quite the experience. Make the most of the time you have together and do something special for your man. Before the trip research a few stops that you know he'll love to surprise him on the way. Is he a sports freak? Take him to a baseball game or a hall of fame. A foodie? Research some stops from Man vs. Food Nation or Diners, Drive-Ins, and Dives. He's sure to appreciate the time you took for him. Plus, he'll probably be more up for doing things you're into on the trip and on the way home.
With a Big Crew: Whether you're all visiting old friends or you're on your way to an end-of-Summer music festival, the best advice I can give you is to move as fast, but as safely, as possible. Chances are, this trip is about the destination, not just the ride. Be prepared, bring your iPod if you want to snooze and get out of the convo, and no matter what, be sure to keep your cool and not bring up anything too controversial. The last thing you want to be is stressed or frazzled when you arrive at your destination. And remember, you'll be taking the trek home with the same people.
With Your Kids: Take the constant "are we there yet?" out of the equation and be sure to come prepared with ample games and delicious snacks. A great way to involve everyone is to include the kids in planning the itinerary. If you're not looking to take requests, have a few roadside attractions or activities on a list and have everyone pick something they'd like to see happen on the road.
With Your Mom or Dad: Spending this much time with a close family member may sound a little overwhelming, but it can be an enlightening experience. The open road seems full of possibility and without fail, it gets people to open up and start talking candidly. A road trip is a great opportunity to connect with someone you love. Get your mom or dad talking and really listen. You're sure to learn something you didn't know before.