Robert Pattinson Remember Me
Is the Robert Pattinson Brand Ready to Get Physical?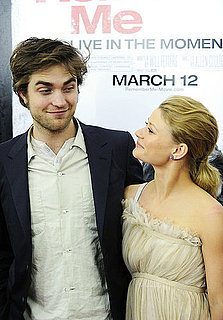 Robert Pattinson wasn't at the Oscars last night because he was at work in London filming Bel Ami, where he'll play a social-climbing journalist in 19th-century Paris. He'll be married and cynical and decidedly unchaste. Are Twihards ready for it?
Though Robert acted in nine films before Twilight, he has not appeared as anyone but Edward Cullen since the movie's premiere in November 2008. His name has become synonymous with foppish, virginal, and eternal youth, but, at 23, he must grow up. This Friday we'll get the first taste of Robert Pattinson post-Twilight when Remember Me hits theaters.
Nancy deWolf Smith of the Wall Street Journal doubts his future after Twilight, saying his image relies on the fantasies of prepubescent girls, teens, and adult women (87 percent of married women said they'd leave their husbands for him . . . we suspect the number would be quite lower if the option were real). But can his heartthrob status endure movies that glisten in the night instead of sparkling through the day? I suspect he's more ready to find out than his fans.