Royal Family Secrets
9 Secrets of Royal Life Allegedly Exposed in New Book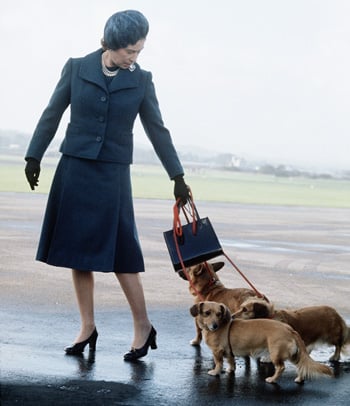 More than 1,000 people work for the royal family at their five residences, and the new book Not in Front of the Corgis! claims to spill their secrets. The book written by Brian Hoey, a royal watcher for the past four decades, is filled with details about everyday life with Queen Elizabeth, Prince Charles, and more. Today's Daily Mail has an excerpt, and I've pulled nine behind-the-scenes details of royal life.
The queen hates it when people hear her pee. Before she makes an official visit, a lady-in-waiting will scope out the place and tell the hosts that they must set aside a bathroom just for her majesty.
Prince Charles has never undressed himself. He has three people dedicated to his clothes.
A servant also irons Prince Charles's shoelaces.
Palace staff can swim in Buckingham Palace's pool, so long as no royals are in the water.
When Barack and Michelle Obama stayed last May, palace aides found out their preferred toilet paper, flowers, and bedding.
Even the queen's husband, Prince Philip, doesn't know the extent of her wealth. Only she, and her accountant, know the total value of her assets.
The queen gives clothes she no longer wants to her dressers, who can either wear it or sell it, so long as all the labels are removed.
Prince Philip is a staff favorite. He even broke protocol to attend the funeral of his chauffeur, rather than sending a representative.
The queen's youngest child, Prince Edward, is allegedly the least popular, due to his insistence on formality. His chauffeur has to look forward at all times.
Would you give the book a read?