Royal Wedding News 2011-04-26 11:47:00
All the Latest Royal Wedding Details and Rumors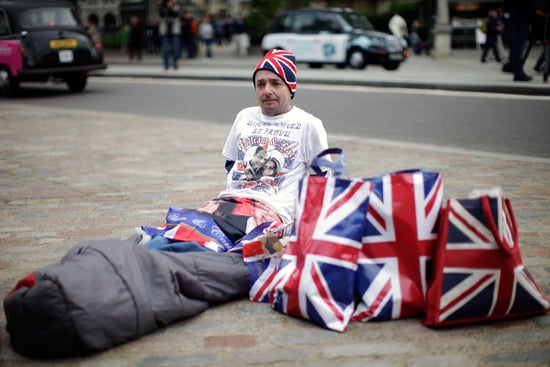 Two days before the big day, superfan John Loughrey is the first person to camp out on the streets ahead of the royal wedding.
Prince Harry is taking Chelsy Davy as his date. The couple have had an on-again-off-again relationship since 2004, but apparently they are "on" just in time for Kate and Will's "I dos"!
This fashion designer almost let the name of Kate's wedding dress designer slip! He said he hadn't heard of Sophie Cranston, who is rumored to be the one.
Late Princess Di's family will be seated on Kate's side, not William's.
Prince William and Kate have chosen an eco-friendly florist, Shane Connolly, who uses live trees and plants. The couple plan on donating and replanting a majority of the florals from the wedding.
Possibly the largest bet on the royal wedding thus far has been made by a middle-aged woman for over $118,000 on Kate wearing the queen's diamond tiara at the wedding. The tiara was made in 1919 for Queen Mary and then was passed down to the queen mother. Princess Anne and Queen Elizabeth wore it on their weddings.
Kate's mother, Carole Middleton, switched her dress designer and hatmaker with less than a week before the royal event.
Beyoncé Knowles and Jay-Z just left Paris, fueling the rumors that they are performing at the royal wedding reception.
Kate's parents will be hosting a royal wedding BBQ for the guests who were invited to the ceremony but not the reception.
Prince Harry is planning a 6 a.m. morning-after breakfast to help party-goers with their postwedding recovery. He's calling his part wedding party planning, part admin duties "wedmin."
The dean of Westminster Abbey, who will be the first to greet Kate at the wedding, said, "I'm not sure exactly what I will say to her. I suppose I might have to make up a joke or two."