Safety Tips For Traveling Alone
When It Comes to Traveling Solo, Put Your Safety First
We're happy to present this story from one of our favorite sites, Fox News Magazine. Today, we get some expert advice for staying safe during a solo Summer vacation: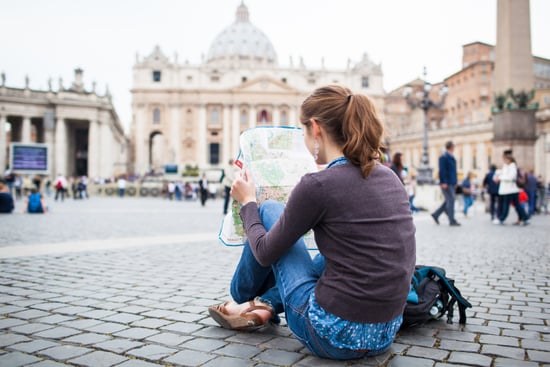 Does getting away from everyone sound appealing? If so, you might want to consider ditching your travel companions in favor of a solo vacation.


But before you hop online and book an independent voyage, there are some valuable things to remember to stay safe and make the most of your journey.
Related: 5 Ways to Revive Your Relationship
We spoke to some of foremost experts in the travel, self-defense, and security industries for some of the top tips on traveling alone:
Research and plan ahead
Have your lodging and transportation planned out ahead of time and know what's around you, says Jeanenne Tornatore, senior editor for Orbitz.com. "If you're traveling internationally, find out where the US Embassy is located before you arrive."
Inform your family and friends of your trip
Make sure everyone knows where you are staying and where you are going at all times, and keep them updated if your itinerary changes, advises Pat Brosnan, a former NYPD officer and CEO of Brosnan Risk Consultants.
Try to assimilate into the culture
If possible, learn how to say hello, goodbye, please, and thank you in every language, says travel expert Lee Abbamonte, who is also the youngest American to visit every country. "It's amazing how that endears you to locals." Also, do your research on the culture. Find out which gestures are appropriate and which may be insulting.
Dress the part
Avoid dressing provocatively in a way that could offend the culture or make you a target for sexual assault. This also goes for expensive jewelry, designer bags, and sunglasses. Leave them at home, says Brosnan. "You don't want to become a tasty morsel to pickpockets."
Protect your ID
If possible, your passport should remain on your body at all times. "A US passport can fetch upward of $10,000 if it falls into the wrong hands. Buying an inexpensive passport cover is an easy but effective fix," says Jen Lownik, self-defense instructor and executive vice president of IM-Safe. Lownik also suggests taking photocopies of your passport just in case you fall victim to theft.
Be visible
Tornatore advises to only go where there are people around; don't enter into remote areas. "It may be tempting to wander off to sightsee, but you want to make sure you are always in eyesight of people so they can see or hear you if anything happens."
Always have your phone charged
"You never want to get caught with a dead battery, especially in a foreign country where there is a language barrier." Brosnan suggests purchasing an external backup battery charger for your phone.
Keep your bags close
"Never leave bags unattended ever, especially in foreign countries. You don't want to become an unwitting carrier or transporter of illegal substances," says Brosnan. Tornatore also advises that if you're nervous about leaving something in your hotel room, bring it with you.
Watch the alcohol
It's one thing being drunk with trusted friends who can help you get home at night. But when you're alone in an unfamiliar location, the only one you can trust to keep you safe is yourself.
Listen to your gut
If you feel threatened or unsafe, follow your instincts. That voice inside your head is usually right.


— Ashley Papa
Also on Fox News Magazine:
10 Red Flags to Watch Out For When Traveling as a Couple
Tips and Tricks For Traveling to Las Vegas
The Best Ski Resorts For People Who Don't Ski