Sandra Bullock and Scarlett Johansson Kiss at MTV Movie Awards
Girl-on-Girl Kissing: What Is It Good For?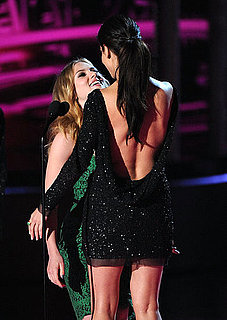 Straight girls kissing was not new when Britney Spears and Madonna locked lips at the 2003 VMAs, but it was to basic cable. The kiss was mind-blowing for boys, inspiring for girls, and since then the girl-on-girl kiss has become a pop culture trope, a Facebook photo opp.
When Sandra Bullock got on stage last night at the MTV Movie Awards, a plan to kiss Scarlett Johansson conceived as an overt way of telling the public to find a new narrative, it wasn't shocking or scandalous. But is that because a decade of straight women kissing has normalized it or desensitized us?
Not to take the fun out of a kiss, but straight women kissing is not helping anyone. Except, maybe, straight men — the kiss's audience. At first it seems progressive: I'm so open-minded, I'll kiss a girl. Yet women aren't doing it because it's no big deal; they're doing it because it's shocking. Or it was.