Sandra Fluke on Mitt Romney
Sandra Fluke Disses Mitt Romney For Not Standing Up For Women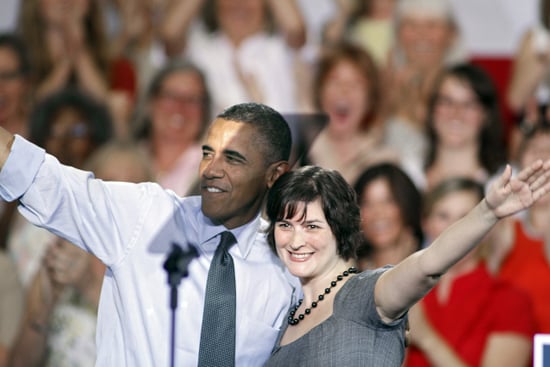 Georgetown Law graduate and women's rights activist Sandra Fluke, who came into the public eye when Rush Limbaugh called her a slut for her stance on birth control, is hitting the campaign trail with Barack Obama. Yesterday, she introduced Obama at a campaign rally in Denver focused on women's rights and praised the current president for standing up for her. She said:
"[Obama] defended my right to speak without being attacked. Mr. Romney could only say those weren't the words he would have chosen."
She added that if Mitt Romney can't stand up to "extreme" voices like Rush Limbaugh's, "we know he'll never stand up for us, and he won't defend the rights that generations of women have fought for."
On women's healthcare issues — like the Affordable Care Act's (aka "Obamacare") free birth control mandate that recently went into effect — Sandra stated, "Romney is offering us only dangerous promises to take us backward. He says that on day one, he's going to kill Obamacare dead. That is an alarming lack of vision from someone who says he wants to lead our country."
Sandra is the second well-known woman this week to speak out for Obama. Yesterday, Elizabeth Banks released a video about Planned Parenthood in support of the president staying in office; and besides being a fan of Obama, we know she's also a fan of Sandra. In a recent interview, Elizabeth told us that she admires Sandra, saying, "The first person who popped into my head who's young, fresh, and making a difference was Sandra Fluke . . . I've met her twice now and I have to say she is the most articulate, amazing woman."
It was clearly no "fluke" having Sandra join him at the Denver rally, as Obama could use all the female support he can get in the swing state of Colorado. As of the end of July, women comprise nearly 53 percent of the state's active voters.