Sarah Palin's Pregnancy During Campaign
Do Politicians' Personal Lives Matter to You?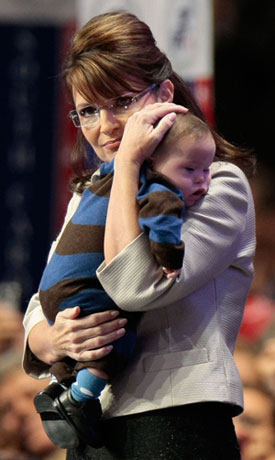 Yesterday, Business Insider and Gawker revisited a hot topic from the 2008 presidential election: whether Sarah Palin's baby Trig is, in fact, her baby, or whether Palin's entire pregnancy was staged and Bristol is actually Trig's mother. The "new" evidence presented in the article — photos of Palin shortly before Trig was born where she doesn't look pregnant, Palin's failure to produce a birth certificate for Trig — wasn't conclusive by any means. But if it is true, pulling off such an elaborate hoax during a presidential campaign would definitely have an impact on Palin's future bid for the presidency.
The majority of you aren't interested in presidential sex lives, but politicians' personal lives in general are another story entirely. Do you care whether a politician has cheated on a spouse, lied under oath, or, um, faked a pregnancy for political gain? Are these good indicators of a public figure's character, or are you purely concerned with how a politician governs?