Sarah Palin Today Show
What Has Today Show Guest Host Sarah Palin Been Up to Lately?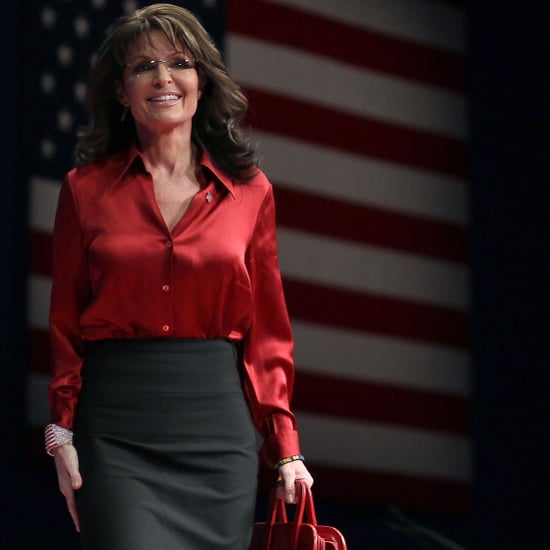 Almost four years after Sarah Palin told Katie Couric she couldn't recall the specific newspapers she reads, the two are going head to head again. This morning, Sarah and Katie are hosting rival morning shows. Liberal-media critic Sarah is this morning's guest host on NBC's Today, while longtime Today show host Katie is cohosting ABC's Good Morning America all week. No, this is not a leftover April Fools' Day joke. If you turned on your TV this morning to see Sarah Palin and wondered what she's been up to lately, here is a rundown.
Keeping up the heat on Obama. She may be out of politics officially, but you can still count on Sarah Palin to weigh in on the day's politics. Last week Sarah said, "President Obama will have 'more flexibility' to weaken us if he's reelected in November."
Backing up Santorum. When GOP presidential candidate Rick Santorum accused a New York Times reporter of "bullsh*t" Sarah had his back. She said, "Welcome to my world, Rick, and good on ya."
Handling the Game Change drama. Last month, HBO released its high-profile movie about the 2008 campaign, Game Change, with Julianne Moore playing Sarah Palin. In response, Sarah wrote to ABC News: "I believe my family has the right priorities and knows what really matters/ For instance, our son called from Afghanistan yesterday and he sounded good, and that's what matters. Being in the good graces of Hollywood's 'Team Obama' isn't top of my list."
Keeping up with her Facebook friends. If you follow Sarah Palin's Facebook page, you can count on a steady stream of musings. On March 24, she wrote a Facebook note claiming that Alaskan women don't tolerate sexism, titled Last Frontier Women Don't Tolerate Misogynists. "I personally do not seek an apology from these narrow-minded men. With a full family and productive 'to-do' list everyday, I just don't have time for them. But I do feel sorry for them and for their obvious need to compensate for something that's missing in their own lives, which compels them to belittle others in order to feel big," Sarah quipped.
Working for Fox. It's somewhat surprising Sarah Palin is going on NBC, considering she's been a contributor for Fox News. Just last week, she wrote an op-ed on Fox Nation, titled God, Guns, the Constitution – Still Clinging.
Being nominated for a Razzie. At this past weekend's Razzies, Sarah was nominated for a Golden Raspberry Award as worst actress on account of her performance in the documentary The Undefeated, which chronicled her political career. She lost to Jack and Jill, which took home every single Razzie.