School For Marriage in Japan
Japanese School Tells Students How to Find and Keep Spouses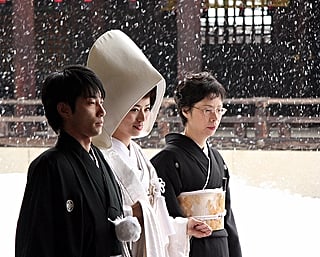 Well, this is certainly one way to find a husband! Unfortunately, it's unlikely any students will find romance at Japan's Infini marriage prep school because it teaches men and women to become marriage material separately — they learn how to sit, walk, and endear themselves to the parents of potential spouses.
And it is men and women: the average age of students is 30. It's mostly women, but that's not because men aren't registering. They just aren't showing up when the premarital wedding bells ring. I don't blame them! In class, students must go on pretend dates, and instructors then critique their performances.
"Before, people would find it easy to get married because families and society would connect them in some way, sometimes pushing them to get married," said Etsuko Satake, the Infini marriage school's principal. "But nowadays, people have too many choices and cannot seem to make up their minds."
Does this seem like the right lesson or a bad message?
Source: Flickr User LeeLeFever