The Scream Painting
5 Things You Didn't Know About "The Scream"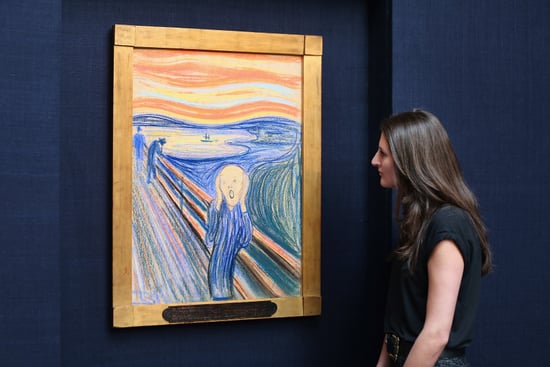 Yesterday Edvard Munch's "The Scream" broke records when it sold for a whopping $119.9 million at a Sotheby's auction in NYC. Created in 1895 by the Norwegian expressionist painter, "The Scream" is one of the most famous and recognizable artworks in the world. But while you may be familiar with the haunting face in the iconic painting, what else do you really know about its history? Find out five strange tidbits about the record-breaking painting now.
There are actually four versions of "The Scream," and the pastel-on-board one that sold is the brightest and most colorful of the bunch.
Two different versions of "The Scream" have been stolen during high-profile art thefts. One was in 1994 and another in 2004.
The iconic Ghostface mask featured in the Scream horror movies is based on the painting.
Some have speculated that the main figure in the painting could have been inspired by a Peruvian mummy that was on display in Paris prior to its inception. The mummy was in a fetal position with its hands on its face. There's also a mummy at a museum in Florence the figure could be replicating.
M&M's may have had a hand in retrieving the stolen painting in 2006. The candy company used "The Scream" in its ads at the time and offered a reward of two million M&M's candies for the return of the painting. Shortly after the offer, the painting was recovered.