Secret to Happy Marriage
Sad Findings: Companion Love Isn't the Key to Marriage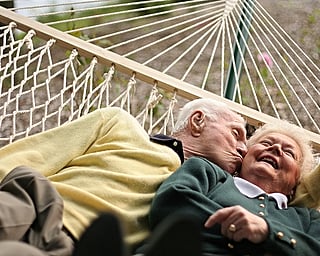 We've always been told if we could turn romantic love into companion love, then marriage might just be happily ever after. But now more and more scientists agree that companion love is not the answer to a happy marriage; staying madly in love is!
A UC Santa Barbara study looked at brain scans of couples who claimed to be madly in love after 20 years of marriage and compared them to couples newly in love. Couples married for 20 years showed the same amount of neural activity minus the anxiety and obsession of new love. And early surveys show this love appears to be present in about 30 percent of married couples in the US.
While it's great news for the lucky few, what does it mean for the other 70 percent? Researchers say not to throw in the towel, but their advice makes me want to. "Go see a play," "take a class together," and "sex is always good" don't sound like the keys to everlasting love.
Essentially couples whose neural activity isn't sizzling need to generate it themselves. Scientifically it can be done through bonding — hence the share-an-experience advice — but can a bond ever be forced in reality?

Source: Flickr User adwriter