Secrets From a Porn Star
11 Surprising Facts About Being a Porn Star, Straight From Rachel Starr Herself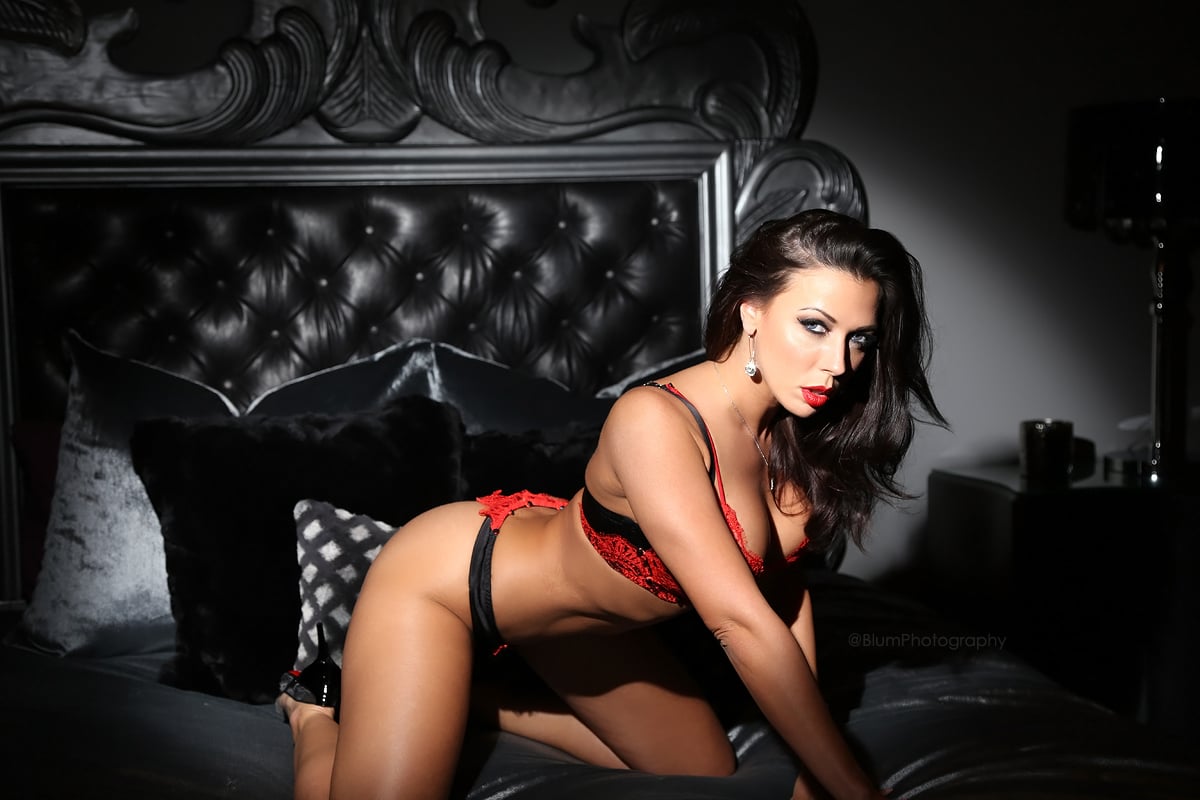 By looking at the bare-faced woman smiling back at me from her screen, I would have never guessed that adult film star was her occupation. With nothing but mascara and a natural glow from kickboxing class in terms of makeup, Rachel Starr was nearly unrecognizable as we Skyped.
The 33-year-old Texas girl (pictured above) who started off as an exotic dancer in Freeport, LA, has become a household name in the industry since getting discovered in a strip club and shooting her very first scene in 2007. Constantly laughing in between discussions about weekend plans and her life as a porn star, Rachel seemed like just an ordinary person . . . because she is.
"We're real people," Rachel told POPSUGAR. "I don't think people do it on purpose at all, I think they accidentally objectify us in a way because it's like we're this character on TV that's constantly playing this ongoing role. It's not even like Angelina Jolie because her personality ranges from so many different scopes throughout all of her movies. But usually, as Rachel Starr, I'm playing pretty much the same character with a different story line every single time. So people can, I think, subconsciously go 'Oh, well, that's her. That's just how she is.'"
But in reality, Rachel is a family person, a girlfriend, an animal-lover, and a coach off screen. She provides women all over the world with career, moral, and emotional support via private Facebook groups.
"I'm very involved with animals and just different things that are contributing to society," she said. "I wish that that didn't get lost in the mix. Not just for me, but for all porn stars because some of these porn stars are involved in some of the most amazing things you could ever imagine. One of my really close friends, he was a porn star for 12 years, and when he retired, he decided to go back to school full-time, get his masters, and now he works for NASA."
Though Rachel personally feels empowered as a porn star, being able to own her sexuality and celebrate it on her terms, she also understands the opposing side. As long as she's able to express herself freely, she believes that others are entitled to that same privilege.
"I think that everybody really deserves the freedom to feel every emotion that they feel about pornography, good or bad," she said. "You deserve that right. And if something makes you uncomfortable, then who am I to say you shouldn't be that way? But listen, if porn was good for everybody, then everybody would do it."
Rachel continued to share how far women have come in terms of embracing their sexuality and curiosities rather than being embarrassed. The rising number of porn sites dedicated to female viewers and sex subscription boxes for women are just a couple examples of breaking barriers and furthering the idea that women are just as sexual as men, and that we shouldn't be shamed for it.
"I'm just so grateful for that because, as a woman, I feel that in the past, for so many years, we've felt like we can't talk about it," Rachel said. "And the fact that more and more women are becoming comfortable and more and more women are reading the articles and sharing it with their girlfriends, or blatantly just being more open, it makes me so happy that that's going on. More than anything, I'm just so happy for women as a whole. They're coming together in this: 'We want to know more, we want to talk about it.'"
And of course, I had to ask about what exactly goes on behind the scenes. Fascinating doesn't even begin to describe it. See 11 surprising facts about porn, including what they really use for "c*m shots".
1. It's very corporate.
Contrary to what many might think, shooting an adult film isn't just a giant orgy. Especially with legality and people's sexual health involved, you can bet it's all professional and regulated.
"I think the most common thing that goes on behind scenes is the extensive documentation," Rachel told us. "Constant paperwork, checking people's tests, model releases — even down to the point where not only do we have to sign stuff, but they have to video us agreeing to these certain terms that you realize this is going on an adult site, you realize that you're working with so-and-so, and you realize that he tested on such and such date, so that means he's all negative for these things and these. You have all these checkpoints that you have to go through before you can even get in. And so it's very corporate, and I think maybe a lot of people might have the idea that it's, 'Hey, we show up on set. Let's have sex [laughs].' It's so regulated, and I think that's one of the things people wouldn't expect."
2. On-set fluffers are a myth.
You may have heard the popular myth that there are "fluffers" on set to help keep male porn stars erected in between scenes, but Rachel completely debunked that when I asked.
"There are no fluffers," Rachel laughed. "You are completely responsible as the talent yourself to put not only your body but also your mind in a frame of work to work and to execute what those directors hired you to do; it's nobody else's responsibility. So even though I'm working with a guy, it is not my responsibility to make sure that he's hard. When that camera's on, you should be hard and ready to rock. There's nobody waiting on their hands and knees to be like, 'What do you need, honey?'"
3. Some stars take their roles very seriously.
Despite the sexual nature of their roles, porn stars are actors at the end of the day. And just like a professional wouldn't come on set unprepared, neither would they. Rachel shared how the job requires dealing with many different personalities on set from introverted to extroverted.
"Me, I'm smiling, laughing the whole time or whatnot," she said. "I like to cut jokes and stuff like that, but there are some girls that I've worked with that are really serious. They want to know their lines, their script, to a T, so they literally put on earphones. They don't want to hear anything. They don't want to talk to anybody. They just want to know their lines. I remember my first year getting into the business, and I don't even remember this girl's name. I remember that she was beautiful, and I was a little bit kind of like, 'Whoa. This has to be a big deal.' She had headphones in, and she was like, "Nobody talk to me," and I just wanted to go up and introduce myself. And literally she moved it, and she was like, 'You see the headphones on, right [laughs]?" And I was like, 'This scene's going to go well.' But actually, when the scene started, I mean when she flipped her switch — she turned it on. You would never know."
4. There's a no-list.
Rachel typically knows who she'll be working with in a project as early as two weeks or a month ahead, which means she has input on who she wants to film with or doesn't. Think of it as an internal blacklist for every individual.
"If there's anybody that we work with or even somebody that we haven't worked with we just heard things about or whatever, we can put that person on a discreet no-list, and only the director has that info," she said. "The other talent doesn't even know they could be on my no-list, which is pretty cool. You don't ever run into having to work with people that you don't want to work with."
5. It's more than just about the sex.
"I would say the best part of the job is embracing the fantasy," Rachel said. "They're not necessarily my fantasies, but the companies put a lot of effort and thought into the scripts that they write. You just kind of get to be somebody different for a day, and that's kind of cool. You get to live out these fantasies. Like I said, that maybe aren't necessarily yours, but it's kind of cool to think 'whoa, that would actually be hot at that moment in your life.' I know it's sexually artistic, but it is a form of artistic expression."
6. About 75 percent of c*m shots in photos are fake.
If you've ever washed your face with Cetaphil daily facial cleanser and thought, Huh. This looks like semen, you're not far off. Approximately three quarters of the "adult facials" shown in pictures is not real semen, it's usually Cetaphil. As of recently, companies have also started to use a brand of lube called Spunk, which is supposed to appear exactly what like its name suggests. But things are more authentic as far as video goes.
"I would say when you're looking at video, I'd venture to say that more like 90 to 95 percent of those cum shots are real. Every once in awhile if a guy is just really struggling and he's been on set all day, sometimes you can turn a scene that was supposed to be like cumming on the girl's boobs to miraculously it's a cream pie scene now, or miraculously, it's a cum-swallowing scene."
7. Set conditions can be pretty rough.
It's not all glitz and glamour on set. In fact, Rachel shared times when filming was almost unbearable. "There are painful days where you're in the middle of the Mojave Desert and it's 110 degrees, and you're pouring in sweat. And in the video, you can't have a drop of sweat on you, so people are constantly toweling you down. Or just when it's cold because when you're shooting, and this is another crazy thing that most people probably don't think of, there's a professional microphone, a "boom" is what we call it. It is so strong, it can pick up when the AC or the heater turns on and off. So it could be the dead of Winter and it's freezing cold outside, and we can't have the heater on. And it takes hours to shoot one of these things."
Another downfall to the job includes constantly being homesick. Because she's not based in porn capitals like Las Vegas or Los Angeles, when Rachel travels for work, she shoots five or more films at a time without returning for a while. "And just living out of a suitcase, it's not all glamorous as everyone would like to think it is," she said.
8. Roughly 50 percent of porn stars date within the industry.
Rachel's own boyfriend of about two and a half years is not involved in her professional world whatsoever. And though her line of work inevitably has some sort of effect on their relationship, he's incredibly understanding about what she does. "I'm just really lucky because I have a boyfriend that realizes that in business it's objective, it's not personal," she said. "And so it was easy for him to understand that this is my job."
If any issues arise, the two are great about open communication. "If something kind of hits him like a thorn in the side, he just says, 'Hey, look, I just want to ask you about this. What's the answer?' And then, just having complete honesty and just answering back, nine times out of 10, the conversation is done and over. But I mean, it's hard being away from him, and that part always sucks."
Rachel also explained that it's an "even kill" between stars with spouses or boyfriends/girlfriends inside and outside the porn industry.
"Me personally, I prefer to not date within the industry," she said. "But I think what keeps my soul complete, my chi, I guess for lack of a better word, is to be able to separate the two. When I go to work, I'm work, and I am everything that my brand needs me to be. And when I come home, I'm everything that my family and friends need me to be."
9. Porn stars can film up to about 150 scenes a year.
As a 10-year veteran, Rachel averages between 20 and 30 films annually, but her numbers are definitely on the lower end. Most people are still in the process of building their brand and film upwards of 60 to 70 films per year. To really get their name out there, some even film 100 to 150. But in addition to films, the job also requires touring and appearances to maintain their personal brands.
10. Some adult films can take days at a time to shoot.
Rachel distinguished the difference between "gonzo" films (short storylines) and feature films. Because gonzos are only about 10 minutes in duration, they only take a full day to shoot, whereas feature films are more like a movie and require several days of production complete with built sets and costumes. They require longer scripts and more of a developed plot compared to a gonzo.
11. Some of the orgasms you see are real.
It's hard to determine exactly how many of the shot orgasms are real or fake without directly asking each actor, but remember that porn stars are real people just like us. Only about 25 percent of women can climax from penetration alone, and that includes porn stars. Unless the script calls for clitoral stimulation, chances are that she's simply putting on a good show.
"I'd like to say that most of the orgasms I've had on set are genuine," Rachel said. "I'd like to say that, but realistically, it's not fair for me to say that because a lot of times in a script — and this is where I think people don't realize how scripted it is — it will say, 'We need four minutes of doggy and then we need five minutes of her in cowgirl. And if she could have a heightened experience in the fourth minute of that five minutes, that would be great.' That's not really how orgasms work [laughs]."