Senate Passes Violence Against Women Act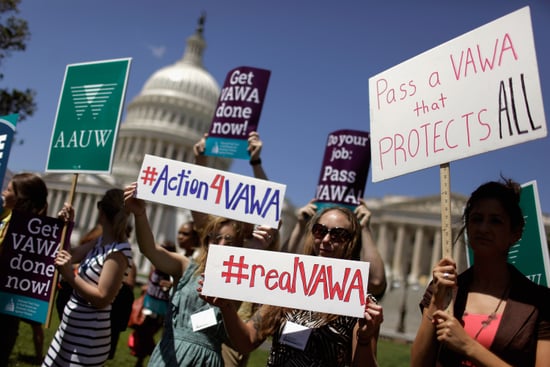 Today the Violence Against Women Act reauthorization passed in the Senate by a vote of 78 to 22 despite its opposition by male Republicans like rising star Marco Rubio, the Florida senator and 2016 hopeful who will be rebutting President Barack Obama's State of the Union address tonight. All the female senators, Democrats and Republicans, voted in favor of the act, which now has provisions included for gays and lesbians, immigrants, and Native American women. It also includes legislation that will speed up the analysis of DNA evidence in rape cases. Since it was created in 1994, the law's anti-domestic-violence programs have been instrumental in protecting women from abuse and reducing national domestic violence rates. But the act has been in limbo since it expired in 2011. A statement from the White House put it best:
Delay isn't an option when three women are still killed by their husbands or boyfriends every day. Delay isn't an option when countless women still live in fear of abuse, and when one in five have been victims of rape. This issue should be beyond debate — the House should follow the Senate's lead and pass the Violence Against Women Act right away. This is not a Democratic or Republican issue — it's an issue of justice and compassion.
The Violence Against Women Act will now move to the House for the vote, where it's slated to face more opposition especially in regard to the new provisions regarding Native Americans.