Sex Advice From Kelly Cutrone's Normal Gets You Nowhere
Kelly Cutrone and Her Mom Give Us Love Advice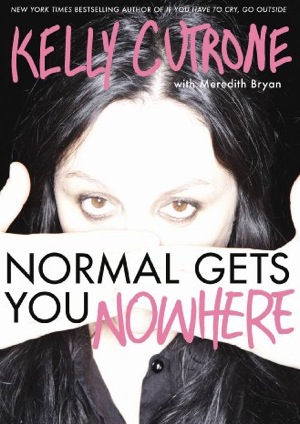 Last month fashion publicist Kelly Cutrone released her latest book, Normal Gets You Nowhere, and she's currently working on an MTV pilot by the same name. The book is all about how embracing what makes you unique will help you succeed in relationships and your career.
The "Kella-Sutra" portion of the book details 10 sex-life rules to live by for young women, like share your fantasies or never fake an orgasm. When I asked Kelly about Kella-Sutra during a phone interview, she started thinking about the lessons her own mother taught her. Next thing I knew, she conferenced in her mom, Beverly.
Chatting with Kelly's mom, I learned that her love rules include: "Marry someone with a J-O-B." "Sex in cars is a bad idea. If you got a guy who can't afford a room you better ditch him!" And, "Don't have sex the first time. Then the whole relationship is based on lust, and that doesn't last." Decent advice. Once we got off the phone with her mother, Kelly had more to say on love and life.
TrèsSugar: You write a lot about how we fail to educate girls about sex in a positive way. What would you change?
Kelly Cutrone: Why are we sending our daughters to the Internet? I'm watching my daughter sexually awaken through Justin Bieber. That's all she talks about. I know he was born at 12:56 a.m. on a Tuesday. So I tell her, "I want you to be as devoted to yourself as you are to Justin Bieber." . . . I think girls are hyper-sexualized and it starts with Disney.
TS: So what do you make of the craze surrounding Prince William and Kate Middleton? Find out when you read more.
KC: Well, I think they're great. Very few royal couples get a love marriage. They're very young, sexy, cool. And great for the economy. They seem like they're standing on the same ground next to each other.
TS: It's safe to say you're a fan.
Kelly: I think it's nice to see sexy couples. Like Obama in the White House. The idea of George Bush Sr. and his wife was not a sexy idea for me. Then we have Weiner, so we can work out all our sexual porn fantasies.
TS: You talk about your love of European men. Do you think Europeans are more open about sexuality?
KS: I think that European men are more romantic and intellectual, while American men are more carnal. It could just be that they're different than us.
TS: What is the number one rule a woman should follow in her love life?
KC: The big one is if you're sleeping with a married man, you're helping him stay married. Same goes for a man in a relationship.
TS: What about friendships? What one rule do you think young women should apply to their relationships with other women?
KC: It's important to open up and listen to what our friends are telling us. I'm never around for the little stuff with my friends. I don't have a lot of time. I'm a mom. I talk on the phone all day for work. But if I know someone is going through a breakup, financial difficulty, trying to lose weight, trying to quit alcohol, or feeling alone, I try to call them up. I'll do everything to help.