Sex and Gender Themes in Twilight Eclipse
Eclipse of the Heart: Sex According to the Latest Twilight
As teen girls and grown women run to see Eclipse today, what messages about sex and gender will the third installment of the Twilight saga send them? I asked myself this during an early screening of the movie, and while you might expect the wait-until-marriage message from an author with a Mormon background, some of Eclipse's love lessons do surprise. If you haven't read the book, my observations will spoil the story, so keep reading at your own risk.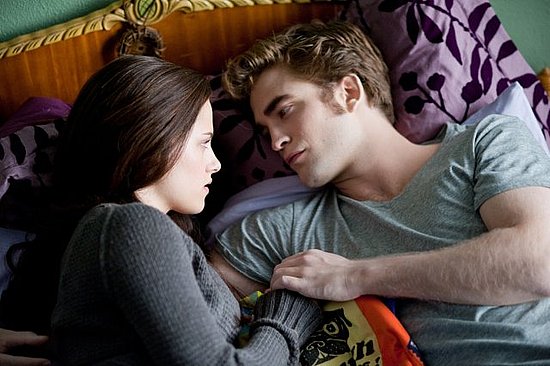 A man must protect a woman's virtue: "Stop trying to take your clothes off," Edward says midway through the movie. He's a traditional vampire, so he wants to marry Bella before they do the dangerous deed. Bella, on the other hand, is a modern-day Eve who couldn't care less about saving her soul. If the conservative message of the movie gets teen girls to think twice about having sex when they're not ready, that's great. But I could do without the implication that a woman will be damned for tasting the forbidden fruit of sex before marriage.
Immortal men and women can be physical equals: Fighting scenes take up much of Eclipse, and it struck me how male and female vampires battle on the same level. In addition, female vampires act as leaders. Victoria controls the army of newborns, Dakota Fanning's Jane gives the Volturi pack orders, and in the flashback scenes we learn about Civil War-era female vampires who acted as generals. It's all relatively refreshing.
For two more lessons,
.
Sex is a reliable weapon for women: In Eclipse, women use their sex appeal to get what they want. Maria and Victoria get control of their respective newborns by making them their lovers — and these men are just pawns in their partners' quests for power. Bella does it too. When she needs something urgent from Jacob, she makes out with him passionately, even though she already accepted Edward's proposal. True feelings or not, we get the idea that Bella has no other way to talk some sense into Jacob.
A controlling boyfriend is just showing his love: Edward acts as fragile Bella's bodyguard. He messes with her truck so she can't leave her house (it's for her own good), asks her to stay in his car on another occasion, and disapproves of her friendship with Jacob. Throughout the movie Edward evolves a bit, but in real life, some of his actions would surely be considered abusive deal breakers. In Eclipse, we're supposed to see them as gallantly protective.
Be sure to check out BuzzSugar's review of Eclipse!