Sex and Hare Krishna
Sex and Hare Krishna: Mad Men's Mother Lakshmi Didn't Follow the Rules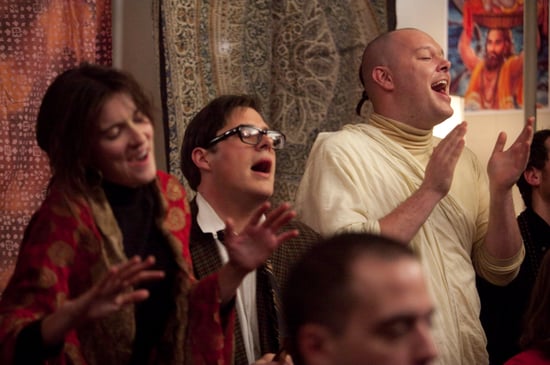 This week on Mad Men, we get a visit from Paul Kinsey, who has gone from progressive, pipe-smoking copy editor to confused Hare Krishna devotee. The Hare Krishna movement was founded in NYC in 1966, the year that's coming to a close on this season, and attracted beatniks like Allen Ginsberg and Beatle George Harrison, one of its most famous followers. The International Society for Krishna Consciousness, or the Hare Krishna Movement, as it is officially known, is based on Hindu traditions and got the attention of the city's hippies when it started. Ironically, it did not back free love.
On the episode, Paul Kinsey's Hare Krishna love interest, Mother Lakshmi, decides to seduce Paul's friend and former co-worker, Harry Crane. Showing up at the office, she lets Harry believe that sleeping together is not against the rules of the religion. You can't blame Harry for believing her, since the Hare Krishna meeting he attended had a strong counter-culture vibe. But in fact, "no illicit sex" is one of the four regulative principles of Hare Krishna consciousness.
Sexual contact is only OK between married couples for the purpose of reproduction, and sex is considered the most powerful connection to the material world, a bond Hare Krishnas want to break. The other three rules include: no eating meat, fish, or eggs, no gambling, and no use of intoxicants. Devoted Hare Krishnas would have disapproved of Roger Sterling's acid drop. But, of course, not everyone followed the rules in the '60s and high-profile members like Allen Ginsberg disagreed with the prohibitions.
Vegetarianism and yoga were part of what made Hare Krishna exotic back in the 1960s, while its negative attitudes toward premarital sex were conventional then. Today, things have switched around. Its rule against sex for pleasure seems extreme, thanks to the sexual revolution, while vegetarianism and yoga have gone mainstream.